Will Penny and Leonard Marry on 'The Big Bang Theory'? Johnny Galecki and Kaley Cuoco-Sweeting on What's Next
Will it be happily ever after for The Big Bang Theory's Leonard (Johnny Galecki) and Penny (Kaley Cuoco-Sweeting)? The engaged duo was last seen driving off to Las Vegas to elope, but they hit a major speed bump when Leonard confessed that he had kissed another woman a few years back while aboard a boat in the Arctic. (Hey, who hasn't?) Here, the actors reveal what's next for the quirky twosome and reminisce about eight(!) years on television's No. 1 comedy.
How would you describe the state of affairs between Penny and Leonard at the end of Season 8?
Galecki: Now that they're engaged, it doesn't mean that all of their problems as a couple are answered. For example, Leonard is insecure about Penny's new job [as a pharmaceutical rep] and the amount of money she makes.
Cuoco-Sweeting: But they have so much fun together, and there is an ease about their relationship.
Galecki: They lovingly tease each other a whole lot too. That always shows real closeness. It's been a long time since Penny has made Leonard stutter.
So when are they tying the knot—and is it actually going to happen now that Leonard dropped his bombshell?
Galecki: Who knows? There is not a lot of comedy if everything goes as planned.
Cuoco-Sweeting: That's a great question—I don't have a clue, because they haven't told us anything. I really want them to get married. I hope next year they'll think of something cool for it. Knowing [executive producer] Chuck [Lorre], he'll make some big surprise. A Comic-Con wedding would be insane! A hundred thousand guests, the biggest wedding of all time.
RELATED: The Big Bang Cast Shares Their Comic-Con Memories
What about Leonard's other big relationship—with Sheldon (Jim Parsons)? Has that evolved too?
Galecki: Now that they both have women in their lives, their priorities have changed. They have bigger fish to fry than roommate dilemmas. At this point, it's nice to see them get along and be supportive of each other.
Cuoco-Sweeting: There's been a complete growth for everybody, on the show and in real life. Seriously, when we first started out, I couldn't even drink.
Galecki: Well, you weren't legally allowed to.
Can you believe you have eight seasons under your belt?
Galecki: It's unnatural to spend this much time together.
Cuoco-Sweeting: That's a lot of time with Johnny.
Galecki: [Laughs] That's a lot of time with me, I'll own that! It's an exorbitant amount.
Cuoco-Sweeting: See, when you spend days with Johnny, you get to hear him say words like exorbitant.
Do you ever think about the show ending?
Galecki: Ninety-nine percent of the time, I feel like I would do this as long as the audience will have us. And then that other 1 percent of the time, I can't relate to that 99 percent at all!
Cuoco-Sweeting: No, thinking about it scares me! I cannot imagine my life without Big Bang. Truly, I don't see that finish line anywhere near us.
Galecki: This is like a family. We have been together for marriages, births, deaths, and divorce. A very small pool of people can relate to this experience firsthand, and that will always be the case, for the rest of our lives. Exorbitantly.
RELATED: Behind the "Bazinga!" Moments (PHOTOS) | Inside the Writer's Room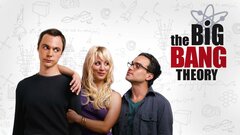 Powered by