Roush Review: 'Manhunt: Unabomber' Is An Explosive Drama
Words have explosive meaning in Discovery's Manhunt: Unabomber, a bold and unusually brainy true-crime miniseries, which profiles two obsessive personalities on either side of the law. (The eight-hour limited series is the first in a projected Manhunt anthology series.)
The infamous Unabomber, Ted Kaczynski (a gaunt and haunted Paul Bettany), is the better known, a warped loner railing against technology and society, using mailed bombs to get his manifesto published and heard. His nemesis, rookie FBI analyst Jim "Fitz" Fitzgerald (a solemnly forceful Sam Worthington), doggedly pursues a pioneering approach of linguistic forensics, defying skeptical bureaucratic bosses who tell him, "All that's required of you is obedience."
Like the Unabomber, Fitz is no meek sheep content to follow protocol. Also like his prey, Fitz alienates his family with his driven ways. Takes one to know, and find, one.
With Emmy-winning producer/director Greg Yaitanes (House, Banshee) and writer Andrew Sodroski at the helm, the smartly structured Manhunt avoids lurid sensation as it alternates compellingly in the two-hour opener between the grueling 1995 investigation and the 1997 aftermath, a meeting of minds in which Fitz tries to break down a jailed but defiant Kaczynski in hopes of avoiding a messy trial.
"I've been living in anger my whole life," Kaczynski declares in the sixth hour, a tour de force for Bettany in an episode-long flashback revealing how this intellectual prodigy became so bitter and twisted, choosing self-exile in a primitive Montana cabin.
The solid supporting cast includes Chris Noth as Fitz's essentially clueless boss, Jane Lynch as beleaguered Attorney General Janet Reno, Mark Duplass as Kaczynski's estranged and suspicious brother, Elizabeth Reaser as Fitz's unhappy wife and Keisha Castle-Hughes as his impulsive FBI partner. But Manhunt belongs to Worthington and Bettany as proud adversaries, waging mind-game battles even after the Unabomber's capture.
Psychologically acute and unexpectedly suspenseful, Manhunt elevates the procedural to high drama.
Manhunt: Unabomber, Series Premiere, Tuesday, Aug. 1, 9/8c, Discovery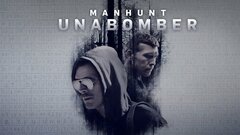 Powered by