Watch: Soldiers Face Ambush in New 'The Long Road Home' Trailer
Hot on the heels of its Emmy-nominated series Genius, National Geographic Channel is ready with another impressively ambitious scripted series pulled from real-life events. The Long Road Home, based journalist Martha Raddatz's New York Times best-selling book of the same name, is an eight-part chronicle of the harrowing "Black Sunday" ambush faced by Fort Hood's 1st Cavalry Division in Baghdad during the Iraq War on April 4, 2004.
Here's an exclusive look at the trailer:
Portions of the event series were actually filmed at Fort Hood in Texas. The series is executive produced by The 33 team of Mikko Alanne, Mike Medavoy, Benjamin Anderson and Edward McGurn, along with Cosmos EP Jason Clark.
And like Genius, this production is packing a formidable cast, including two-time Emmy-nominated actor Michael Kelly (House of Cards), Prison Break's Sara Wayne Callies, Emmy-nominated actor Jason Ritter (Parenthood), Jeremy Sisto, Kate Bosworth, and Noel Fisher (Battle Los Angeles).
The Long Road Home is slated to premiere in November.
See Also
Plus, check out photos from our visit to the set!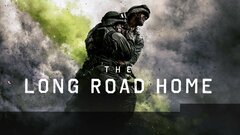 Powered by