Jonathan Strange & Mr. Norrell Bring in the Dark Magic
Abracadabra, and—poof! Everything old is new again. When Jonathan Strange & Mr. Norrell—BBC America's seven-part adaptation of the bestselling novel by Susanna Clarke—opens, the year is 1806. The Napoleonic Wars are raging across England, and the practice of magic has fallen out of favor. That is, until a strange hobo (Paul Kaye) mouths off about a pair of magicians destined to return the dark arts to Britain.
"It's a story about two men who can locate something incredible within themselves," says Eddie Marsan, who plays the titular "mister." While Mr. Norrell is bookish and stern, Jonathan Strange (Bertie Carvel)—his fun-loving protégé­—is hands-on and impulsive. "Norrell accesses magic through diligent study and academics, and Strange accesses it through confidence and spontaneity," Marsan says. "If you took away the fantasy element, their relationship is very similar to the one between Salieri and Mozart in Amadeus."
The duo use their skills to help the national army fight France, but they eventually become rivals—and then straight-up enemies. "Norrell wants to box magic into something respectable," Carvel explains. "Strange is a romantic who works through instinct. He doesn't want to put a limit on what he does and bores corridors that Norrell would rather leave unexplored." The adversaries become so obsessed with each other that they fail to recognize the havoc an evil fairy called the Gentleman (Marc Warren) is wreaking around them.
The series employs special effects throughout, including horses made of sand, but it's the dramatic conclusion that will likely carry the biggest thrill for fans of Clarke's book. "It ends in a very dark place indeed," Carvel vows. "And the visuals that accompany that are absolutely stunning. What amazing treats there are in store!"
Jonathan Strange & Mr. Norrell, Miniseries premiere, Saturday, June 13, 10/9c, BBC America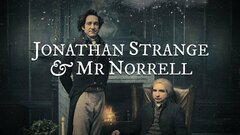 Powered by