Meet the Parents: Anna Maria Horsford and Obba Babatundé Join The Bold and the Beautiful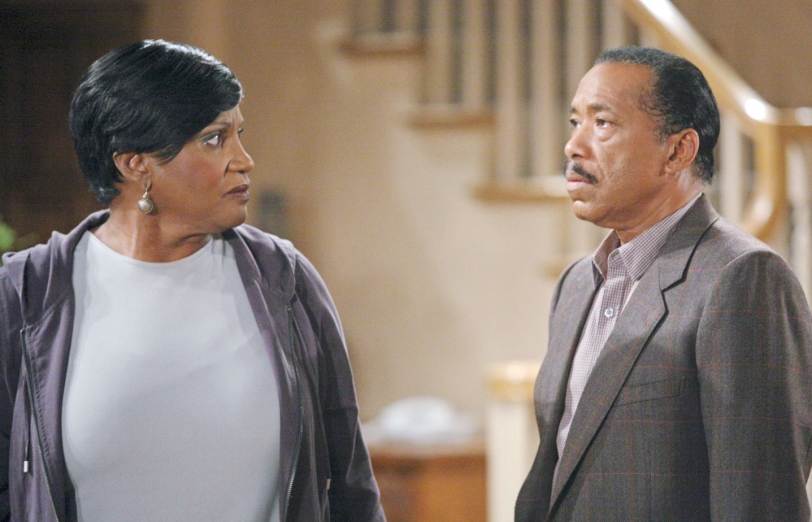 You might think the story of social-climbing transgender model Maya Avant (Karla Mosley) on CBS's The Bold and the Beautiful couldn't get any hotter. But you'd be wrong. The hit soap has cast veteran actors Anna Maria Horsford and Obba Babatundé to play Maya's old-school parents, Vivienne and Julius Avant. And, as viewers know, that's not good news for our Ms. Maya!
According to a B&B rep, Maya's disapproving mom and dad will come to town looking for their youngest daughter, Nicole [Reign Edwards], to take her out of L.A. and away from Maya's influence. "Maya's past comes flooding into her present when she is faced with the parents who rejected her," says the rep. "We will begin to see how Maya became the woman she is today amidst many obstacles and prejudices."
Horsford, best known for her work in the comedy series Amen and The Wayans Bros., will first be seen July 3, followed by Babatundé, a Tony nominee for the original production of Dreamgirls, who debuts July 9. Both are set for at least 15 episodes, though their gigs will likely extend well beyond that. Neither star is a soap newbie. Horsford kicked off her career with a role on Guiding Light. Babatundé has had recurring stints on All My Children, One Life to Live and B&B's sister soap, The Young and the Restless.
"This reunion of the Avant family has opened my heart on so many levels," says Horsford. "I personally know several transgender people but I never really thought of things from the parents' perspective. The audience has heard Maya's point of view about what went on in the family. Now it's time to get Mom and Dad's side of things! Maya may think her parents never loved her, but that's her perception."
No surprise here: Babatundé reveals that Julius is "a big stickler for tradition and a really bullheaded guy." But Maya, he notes, "is also very headstrong and difficult. Vivienne is a wonderfully loving, nurturing soul, and you also see those qualities in Maya. So, despite the intense differences among the members of this family, they're very much alike." Adds Horsford: "The Avants may be damaged but they're still intact, held together with Krazy Glue."
Vivienne and Julius haven't seen Maya in years—in fact, not since she made her surgical transition from the son they called Myron. "Their first encounter after all this time is incredibly powerful," Babatundé says. "And then [later] they see this new person in the glory of her new world at Forrester Creations and she is absolutely astounding! But how does a father handle that?"
Especially an African-American father. "Gay and transgender subjects are not comfortably discussed in the African-American community," Horsford says. "We might see that our children are different but we don't tell anybody about it. We all know that church choir director who never got married and his mother still insists it's because he never met the right girl. We may want to say, 'Oh, Mama, c'mon, we know!' But we keep it polite. I love that this story on The Bold and the Beautiful is ultimately about truth and integrity and acceptance. It's going to stir up a lot of positive talk in our community—and hopefully in all communities."