Get Packing! 6 TV-Themed Vacations for Serious Fans
Television is great at providing a little fictional escapism, but there are also ways you can get away for real and escape into the physical backdrops of your favorite TV series. Whether you got tickets to Comic-Con and want to keep the TV party going, or didn't go at all, here is a list of other TV-related vacations that will also immerse you in your favorite shows.
See Also
No matter how long your commute, make it more enjoyable with these fun TV shows.
Westworld: Utah
This 11-day trip will have you hiking and horseback-riding in the HBO drama's Southern Utah shooting locations. It also includes a five-hour cruise through Colorado's National Forests to Moab, where the pilot was filmed.
Outlander TV Location Day Trip: Scotland
There are dozens of Outlander-themed vacations on offer in Scotland; what makes this one special is that it's totally private. You and your companion(s) will be the only ones taking a the day trip that stops at Falkland village (which subbed for 1947 Inverness in the Starz series), Doune Castle (the real-life Castle Leoch) and more.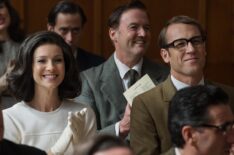 See Also
Claire and Jamie's reunion is teased in the Season 3 trailer.
Twin Peaks: Washington State
Head to Snoqualmie—a.k.a. the crazy town of Showtime's Twin Peaks. This themed tour offers scenic flights, outdoor fun, and even a slice of Dale Cooper's favorite cherry pie.
The Crown: England and Scotland
If you loved the acclaimed Netflix series, this royal tour of English and Scottish castles will be for you. It also includes stops that highlight the Royal family's favorite clothes stores and old cars.
The BaD Tour: New Mexico
Jump into a very un-Walter White 11-passenger Mercedes van that hits up multiple locations from Breaking Bad and its spin-off, Better Call Saul, including Los Pollos Hermanos, Saul Goodman's law office, The Carwash and Walter White's house.
Walking Tour: The Touring Dead: Georgia
Warning: You might need to be in shape for this two mile hike through the locations used in the third, fourth, fifth and (upcoming) sixth seasons of The Walking Dead. But then again, you'd also need to be in order to live through a zombie invasion.