The (New) Age of Aquarius: David Duchovny Makes a Comeback Chasing Charles Manson in Period Procedural
The truth is still out there. Far out there, ya dig?
It's a late-November afternoon on Paramount Pictures' lot in Los Angeles, and everyone is feeling groovy during the final days of production on NBC's new period procedural Aquarius. Dozens of extras cloaked in layers of hippie rags float wistfully around Stage 5 awaiting their turns on camera, while stars David Duchovny and Grey Damon wrap an intense interrogation scene in the adjoining studio, which has been outfitted to represent the LAPD's Hollywood precinct circa 1967. As the crew preps for the next take, the actors make their way over to a couch adjacent to a car collector's dream lineup of antique police cruisers, vintage Cadillacs, and a mammoth Plymouth.
"We are not happy driving in it," Duchovny says of the cream-colored Plymouth. "The turning ra­dius is three blocks, and there's no air-­conditioning, so it's a sweatbox. But we just kept telling each ­other it's realistic—and that sweat is fine."
"We are immense sweaters!" adds a smiling Damon, who plays rule-breaking undercover cop Brian Shafe. "It's kind of a pain in the ass, but this guy [pointing to Duchovny] is a real stud."
Indeed, this is the dawning of a new age for Duchovny, who spent nine seasons investigating paranormal activities as FBI Special Agent Fox Mulder on the sci-fi phenom The X-Files. The 54-year-old actor is making his return to the force—and network television—in Aquarius as homicide detective Sam Hodiak, a Los Angeles lawman whose search for a missing teenage girl (Emma Dumont) leads him to discover an underground movement of free-loving youths led by an aspiring musician named Charles Manson (Gethin Anthony). "Hodiak is more proactive and less investigative than Mulder," Duchovny says. "The X-Files is a show where you're chasing big mysteries, but Hodiak is chasing killers. So the mystery is a whodunit and not a what-the-hell-did-it."
At the center of it is Manson, one of the world's most notorious criminals. He was sentenced to life in prison after leading his followers on a killing spree in 1969 that took seven lives, including that of actress Sharon Tate. But Aquarius—which creator John McNamara (NBC's Prime Suspect) classifies as "historical fiction"—is set two years before those events, and Manson is still just a struggling songwriter surrounding himself with a bevy of beautiful women. "Manson is posing as a peace-and-love dude and ends up being our first famous mass murderer, so he's more of a symbol of when the '60s died," Duchovny says. "We don't want you to sympathize with the guy, but we do want you to empathize with him."
In finding the right actor to portray this dark American figure, producers took their search across the pond and tapped Oxford University grad Anthony, who most recently played the late Renly Baratheon on HBO's Game of Thrones. "I started trying to sound like him and really understand his cadences," Anthony says, citing Nuel Emmons's book Manson in His Own Words as a vital tool to getting into Manson's mind. "I tried to erase the monster that permeates our ideas of him. I read about where he grew up and what experiences he had in order to humanize his actions."
Other cast members also delved into research for their roles. Friday Night Lights alum Damon spent three weeks before production immersing himself in books and documentaries about the Vietnam War to channel his character's difficult return home from the front lines. "But I had to tone down [my research] a bit after I started having nightmares about Vietnam and comrades blowing up right next to me," Damon reveals. "I had one dream where I walked into this dark room and Manson was standing there with a switchblade in the garb that he was arrested in…that lambskin."
Vietnam is one of the many real-life social issues Aquarius will tackle during the course of its 13 episodes. Look for Hodiak and Shafe to enlist the help of a Black Panther named Bunchy Carter (played by fellow Friday Night Lights vet Gaius Charles) for a handful of cases involving race relations. There is also a multiepisode arc involving a shocking murder, which results in Hodiak having to go undercover at a gay nightclub. And the rise of feminism is addressed through the eyes of young female police officer Charmain Tully (The Originals' Claire Holt), who struggles to earn respect in the cutthroat boys' club of the precinct. "It's such a fertile area for stories, because our characters are standing right on the point of history where things are going to go to utopia—where the hippies want to go—or things are going to turn dark, as it does for Manson," Duchovny says. "Hodiak either has to come along or get left behind."
In addition to addressing social change, Aquarius has plenty of patented '60s sex, drugs, and rock 'n' roll. The soundtrack in particular plays a vital role in setting Aquarius's tone. Producers handpicked a variety of rock classics for each episode, with the first hour alone featuring popular tracks from Jefferson Airplane, the Who, and the Rolling Stones. "It was not cheap," says executive producer Marty Adelstein. In order to avoid those hefty price tags going forward, producers scoured archives for lesser-known songs to showcase alongside the era's greatest hits. "Frank Sinatra is a huge part of Episode 6, but that motherf—er is so expensive," McNamara says. "So in that episode, it's Sinatra and five songs you've never heard of. We became connoisseurs of garage bands, one-hit wonders, and B sides."
The producers are also channeling their inner radicals by testing the limits of traditional network-television standards in the show's depiction of drug use and sex. Originally conceived by McNamara as an envelope-­pushing cable drama, the series was championed by NBC Entertainment Chairman Robert Greenblatt, who previously cast Duchovny in The X-Files and as sex addict Hank Moody on the Showtime comedy Californication. "Under normal circumstances now, talent like David chooses to go to cable or a digital platform first because there are so many restrictions on network television," Greenblatt says. "But the lines are blurring more, and this has more darker edges and themes than the average broadcast show."
To that end, NBC made it overtly clear to the show's creative team that the integrity of the series would remain intact, including the explicit orgies and underage drug use that were staples at the Manson camp. This meant filming—and editing—two different versions of every episode: an hour approved by the network to air in primetime and a racier version that will be released later on Amazon and international platforms. "We would do the digital version, send it to NBC, and their heads would explode," McNamara says. "Obviously nudity is a huge part of the era, and that is fully [on display] in the digital cuts."
NBC is going one step further in bucking the traditional broadcast norms of series distribution by making all 13 episodes available for bingeing on nbc.com following the May 28 season premiere. "I believe viewers think more highly of a show that they can watch at their own discretion rather than waiting for every episode to come out," Greenblatt says. "We'll just give the viewer more of a chance to get sucked into it faster."
For Duchovny, the broadcast rules for salty language were the most difficult to overcome, especially while having to play a tough-talking L.A. cop. "I feel like networks allow a lot more violence than they do language, and to me, that's backward," Duchovny says. "It's a part of life. My kids know the words, so I don't know who we're protecting."
Although Manson's murderous rampage came to an end in 1971, McNamara insists that's not where Aquarius's story stops. The producers have six seasons plotted out, with a bulk of the action spanning into the late 1970s before time-jumping to 1984 for its ultimate conclusion. "The show really is about how people deal with failure, tragedy, and changes," McNamara says. "How do you face the aftermath of things you couldn't stop or fix?"
A potential six-season commitment might sound daunting to some actors, but Duchovny embraces the challenge as he adds this series to his expanding résumé. Earlier this year, he released his first novel, Holy Cow, about a cow that travels to India to avoid being eaten. And on May 12, he released his first album, a collection of folk-rock tunes, called Hell or High­water. "It's exciting to be able to do such different things," Duchovny says. But it is the upcoming reboot of The X-Files that has his fans in a frenzy. Earlier this year, Fox announced that Duchovny and costar Gillian Anderson—who played Mulder's partner in crime (and later love interest), Dana Scully—would reprise their roles for a six-episode event series written by creator Chris Carter and set to air later in 2015.
"It just happened. We were all able to come together at this moment," Duchovny says of the timing. "Also, who can't do six episodes? My mom can do Mulder for six episodes."
Production is set to begin in Vancouver in mid-June, and Duchovny has been dropping hints about familiar faces that will reappear, telling David Letterman that Mitch Pileggi (Assistant Director Walter Skinner) and William B. Davis (Cigarette-Smoking Man) will be back. Even though Duchovny has yet to see a script, he admits he is most looking forward to reuniting with Anderson to further explore the Mulder-Scully relationship. "I'm just thankful that Gillian will be there to check in with and go, 'F–k, this is strange!'" he says with a laugh. "We started this show 23 years ago, and here we are still doing it. In some way, it's a show that never ended."
Back on the set of Aquarius, it's apparent that Duchovny has already discovered a fresh new chemistry with his latest on-screen partner, Damon. "I look at the relationship like Jesse Pinkman and Walter White," Damon says, referring to Breaking Bad's meth-
cooking duo. "They complement each other, both negatively and positively."
"I'll say your hair looks great," Duchovny replies. "That's a compliment!"
"And I'll say your hair looks stupid," Damon says with a laugh as he runs his hands through Duchovny's crew cut. "This is going to be a wild, interesting, and very groovy ride."
Aquarius, Series premiere, Thursday, May 28, 9/8c, NBC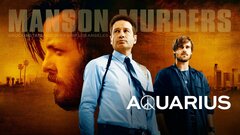 Powered by