Can 'Aquarius' Survive Its Second Move to Saturdays?
Aquarius Season 2 is being shifted to Saturdays. Executive producer John McNamara broke the news on Twitter earlier this week.
#Aquarius update. Being moved to Saturdays; rest of Season 2 will air starting 8/27. We've survived this once… and will again. Semper Fi.

— John McNamara (@johnthemcnamara) August 1, 2016
The David Duchovny-led drama faced a similar fate in its freshman year: after struggling in the ratings (in the aftermath of the entire first season being launched online), the series was moved to Saturdays.
NBC attempted to draw an audience to the sophomore season on Thursday nights, but Aquarius was unable to gain traction. "We're still supporting that show, obviously," NBC Entertainment president Jennifer Salke told reporters after the network's Television Critics Association executive panel. "[Series star] David [Duchovny] and the talent involved are really important to us, and we'll continue to support it wherever we put it. We did have to make some schedule changes; the show is not being pulled off the schedule."
When Salke was asked if there was a realistic chance the show could return for a third season, she acknowledged, "I think that's tough."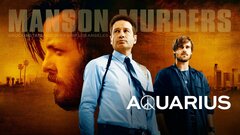 Powered by