'Odd Mom Out' Discovers the Wonderful World of Two-Percenters in Season 3
Clutch your Birkin bags close, because it's apocalypse o'clock on the Upper East Side. Last season, Bravo's original scripted comedy Odd Mom Out signed off with a surprise twist: The who's who of Manhattan had fallen prey to a mass Ponzi scheme. Lucky for Jill Weber—the quirky, anti–blue blood mother played by series creator Jill Kargman—she and her hubby, Andy (Andy Buckley, above, with Kargman), weren't big enough fish to be among the casualties. So how will Manhattan's elite fare now that they're merely—shudder—part of the 2 percent? Kargman reveals why the struggle is real.
How devastated are some of the characters—like Jill's petulant sister-in-law Brooke (Abby Elliott)—going to be after their demotion from filthy rich to merely ultra-privileged? They see it as a huge lifestyle setback. A lot of them have had to choose between the ski chalet in Aspen and the horse farm in Millbrook and that's the end of the world. Jill's best friend, Vanessa [KK Glick], is an ER doctor on the Upper East Side, and the burn unit has been inundated with people who were trying to use their ovens for the first time.
What made you decide to suddenly knock these folks off their gilded pedestals? I wanted to get deeper so the characters were not just caricatures of rich people. If you take their money away, even though it's not really taken away, who are they?
You have a flair for identifying—and sending up—budding trends, like the obsession with Transcendental Meditation. What's your secret? I take a lot of walks around New York City and watch people like a hawk. I believe in the rule of three: The third time I heard someone talking about Transcendental Meditation, or TM, I was like, "This is a thing." I'm just a magnet, and pop-culture metal shavings find me!
Odd Mom Out, Season Premiere, Wednesday, July 12, 10/9c, Bravo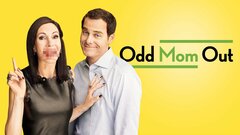 Powered by