Roush Review: 'Friends From College'—Sometimes Engaging, Quite Often Exasperating
Imagine a Friends scenario in which, after Monica and Chandler got together, he was secretly sleeping with Rachel for the next 20 years. Ewww, right?
An infidelity-among-buds plot engine drives the sometimes engaging, quite often exasperating eight-episode ensemble comedy, Friends From College, about former Harvard classmates who bring out the eternal sophomore in each other. "What are we, in seventh grade?" one friend snaps to another late in the run, as the weighty baggage of these tangled relationships reaches a breaking point.
Sounds about right.
The tremendous cast includes Keegan-Michael Key, Cobie Smulders and Annie Parisse as the core triangle, played to messy, bittersweet perfection, even when Key adopts weird voices to cloak his anxiety. Key and Smulders are the married Ethan and Lisa (dubbed "Froshy" by the rest of the gang to her chagrin, because she's a few years their junior), and Parisse is the sophisticated Sam, who though married with child to an outsider (Greg Germann) can't quit Ethan.
Fred Savage is a sympathetic standout as Felix, Ethan's gay BFF and book editor, who's trying to urge his pal to move outside the rarefied realm of "literary" novels that don't sell, and sell out in the hot genre of "YA" fiction. Felix cohabits with an effectively and unusually restrained Billy Eichner, a fertility doctor who's no fan of the "friend group" but who takes the unhappily childless Ethan and Lisa on as clients. In underwritten roles, Nat Faxon (as a trust-fund slacker) and Jae Suh Park (a conceptual theater artist on whose couch Lisa and Ethan are sleeping) complete the ensemble.
As the tone of College shifts from slapstick to seriocomic in a series of cringe-inducing set pieces of social awkwardness, you may grow dizzy from the love-or-hate-them seesaw. (Kate McKinnon, Seth Rogen, Ike Barinholtz and Chris Elliott are among the welcome scene-stealing guest stars.) But when an easily panicked Ethan throws a chair through glass doors twice in the span of three episodes, you might simply want to yell at these child-ults to grow up.
Come to think of it, I wonder if Chandler ever did.
Friends From College, Series Premiere, Friday, July 14, Netflix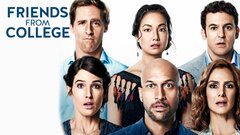 Powered by