'Doctor Who' Announces Season 9 Premiere Date; Here's What We Learned From the Trailer
Doctor Who has just confirmed the date of his next appointment: Season 9 of the hit science fiction series is set to premiere on September 19.
Peter Capaldi will continue in the role of the Dr. Marten-wearing Time Lord, while Jenna Coleman will return as his companion Clara Oswald. Also set to guest-star this season are Game of Thrones' Maisie Williams and Michelle Gomez who will be reprising her role as last season's villain, Missy (AKA The Master).
The announcement came at Thursday's San Diego Comic-Con panel, where the series' current showrunner Steven Moffat, along with Capaldi, Coleman and Gomez, offered up hints of what fans could expect from the latest season:
A Little Less Conversation, A Little More Action
Last season saw the emergence of a Doctor who was more self-reflective of his past actions and new self, constantly questioning what it meant to be a hero. This season, Capaldi says his character and Clara are embracing their travels in time and space. "They're really enjoying being the luckiest people in the universe," he says. "They throw themselves recklessly in pursuit of adventures."
Plus: Get More SDCC news on TV Insider's Comic-Con page.
How Clara Got Her Groove Back
Coleman says that Clara will warm up to her much, much older travel companion next season. "She got scared and didn't feel safe," said Coleman of the duo's dynamic in Season 8. "They're very much a team now. They've found their groove." She also added that Clara and the Doctor are on "equal footing" and that her character will try to improve the grouchy Time Lord's interactions with humans a bit more, by making him "more of a welcome party guest."
Let Zygons Be Zygons
As the trailer above shows, one of the villains fans can expect the Doctor to face in the new season is the Zygons—along with Daleks, zombies, robots and other possibly faceless creatures. And of course, there's the return of Gomez's Missy, who will be making an appearance in the season opener. Moffat says that Missy's return isn't going to be expected, though it might have something to do with whatever the character's been up to between seasons. "The way the Doctor and Missy come back into each other's lives is very hard to predict."
Friendships Sometimes End
Moffat also went to reaffirm that both Gallifreyans are indeed friends. "It's friendship between a vegetarian and a hunter." Gomez described the relationship as "kind of like that best friend you love to hate. This great friendship that just went wrong." Though also notes the similarities between both the characters. "We both kill a lot of people. He feels bad about it, I don't."
Familiar Faces in Familiar Places
Season 9 also sees the return of a few familiar faces, two of whom are UNIT commander Kate Lethbridge-Stewart (Jemma Redgrave) and fan-favorite Osgood (Ingrid Oliver).
Winterfell Is Coming
For those trying to guess whom Maisie Williams will be playing in the Season 9 opener, it seems the clue lies in the recently released trailer. After her character takes off her mask, the surprised Doctor seems to recognize her, exclaiming "You." "What took you so long, old man?" she replies.
Don't Blink
Other teases in the minute-and-a-half long trailer include: Clara in a familiar orange spacesuit, the Doctor playing the guitar, a laser aimed at Missy (or rather her mirror), cool new planets and of course, plenty of running.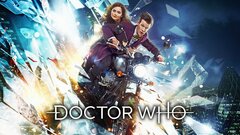 Powered by