'Vikings' Comic-Con Trailer Shows Battle and Betrayal Ahead
Vikings won't be back for Season 4 until next year, but the show is giving fans something to keep them occupied in the mean time with the debut of a new trailer:
[jwplatform 9JyweHFg-gdaXI0eR]
RELATED: Like the photo above? Check out more pics from our photo booth here.
Last season was a wild one, with major death after major death and its most elaborate battle scene of all time. Friday's panel at San Diego COmic-Con, which included creator Michael Hirst and cast members Travis Fimmel, Katheryn Winnick Clive Standen, and Alexander Ludwig, teased a few developments for Season 4, including a new love interest for Ragnar.
The Seer says that if fans knew what was coming in S4, they would be dancing naked in the halls #VikingsSDCC #Vikings #SDCC2015

— Vikings on HISTORY (@HistoryVikings) July 10, 2015
Question: "Will they continue to raid into Europe?" Hirst: "Yes. This is not just Ragnar's show. It's his and his sons." #VikingsSDCC — Jeanne (@fangirlJeanne) July 10, 2015
We hear a new lady enters Ragnar's life this season, but how will she compare to Lagertha? #VikingsSDCC #Vikings #SDCC2015

— Vikings on HISTORY (@HistoryVikings) July 10, 2015
And of course, Vikings will be Vikings:
Security guard tells @CliveStanden not to throw t-shirts. Rollo disagrees. T-shirts for all! #VikingsSDCC #SDCC2015 pic.twitter.com/PbhPsHmSMd

— Vikings on HISTORY (@HistoryVikings) July 10, 2015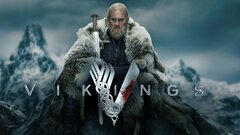 Vikings
where to stream
Powered by