9 TV Stars Who Can't Resist Instagram at Comic-Con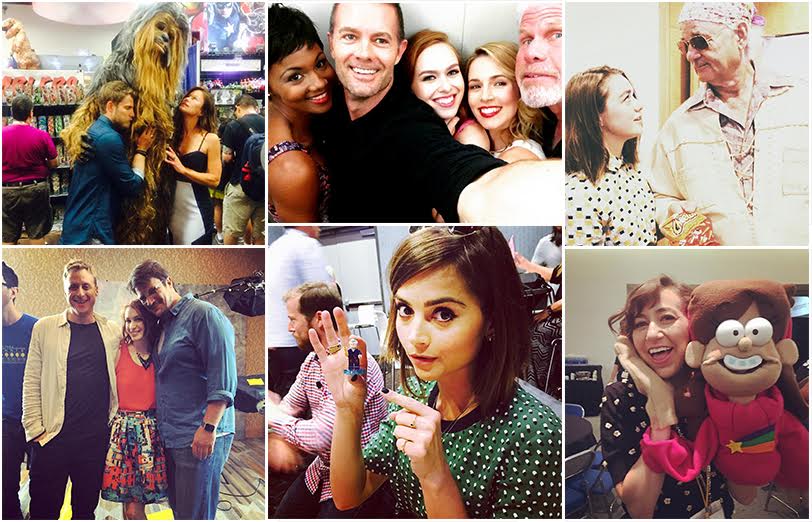 San Diego Comic-Con 2015 officially started today, clogging our social media pages with posts, tweets and pictures of the grand fan-frenzied event. But even celebs have been known to fan-girl, obsess, or just hang out at the Con. Here, a look at the TV stars taking to social. And, get more SDCC news on TV Insider's Comic-Con page.
Doctor Who's Jenna Coleman holding a mini Peter Capaldi
The Last Man on Earth star Kristen Schaal and a puppet of her Gravity Falls character
Saturday Night Live's Taran Killam cracks a joke about his wife, Agents of S.H.I.E.L.D. cast member Cobie Smulders
Firefly vets Alan Tudyk and Nathan Fillion with Supernatural's Felicia Day for their Con Man web series panel
A photo posted by Felicia Day (@feliciaday) on
CBS's Limitless stars Jake McDorman and Hill Harper stopping for a selfie
Seth Green thanks security for their hard work
Game of Thrones star Maisie Williams with Bill Murray, plus some Cheetos
The Last Ship stars Travis Van Winkle and Rhona Mitra cuddle up to Chewbacca
Garret Dillahunt, Ron Perlman, and the cast of Amazon's upcoming Hand of God cast mates cozied together for an elevator ride.