'Powers': What We Know About the New Character Jumping From the Comics to the Show
Talk about a Super Shock. When Powers returns with its second season, the PlayStation Network series will be adding the superhero to its roster of currently adapted characters.
In the comic series of the same name, Super Shock is an incredibly powerful—if not the most powerful—member of Unity, the team of superheroes. His abilities include everything from flight and invisibility to invulnerability and immortality. Over time, however, he becomes disillusioned with the world; eventually he murders disgraced former Unity member Red Hawk and goes on a super-powered killing spree in an effort to rid the world of crime, almost killing Detective Deena Pilgrim in the process.
At the Powers panel at Comic-Con, it was revealed that while the show's version of the hero will retain his all-powerful status, he is currently in hiding and shares a past with Detective Christian Walker (played by Sharlto Copley).
"With Super Shock comes a whole new set of problems," said comic co-creator Brian Michael Bendis of the character at the show's Comic-Con panel. "We'll get to discover a lot about the Powers universe through him."
While the show's first season didn't follow the comic, it did delve into the rich mythology Bendis, and co-creator Michael Avon Oeming have established over the comic's run. In fact, Retro Girl's death—which occurs at the end of Season 1—is what begins the comic series.When episode 10 hit, people were like, 'I can't believe you did that!'" said Bendis. "I was like, 'I can't believe you can't believe I did that, that's the title of the first book.'"
Nonetheless, the actress who portrays Retro Girl, Michelle Forbes, will be returning for the show's second season, where her character's death will have a huge effect on the city, including the Powers Division, where Walker will now become obsessed with finding her killer.
Powers Season 2 also sees the addition of seasoned TV writer Ben Edlund (The Tick, Firefly, Supernatural) to the show's writing team.
And here, if you're catching up, a video recap of Powers Season 1, which will be available on DVD Blu-ray on July 14,
[jwplatform SvfVQUpw-J0km5hnF]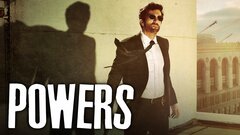 Powers
where to stream
Powered by