'The 100': 7 Burning Questions Before Season 3
Between the mass eradication of Mount Weather, a heartbreaking betrayal, and the introduction of an artificially intelligent life-form with a major (and nuclear-powered) twist, The 100 left us with a lot of things to wonder—and worry—about regarding Season 3. Thankfully, executive producer Jason Rothenberg had some answers to keep us calm until the fall. (He'll probably have more to say later today at The 100's Comic-Con panel, and visit TV Insider's Comic-Con page for more features.)
Why kill Finn?
It was, perhaps, the most shocking death of the show so far: the execution of heroic Finn (Thomas McDonell) for his massacre of a Grounder village. Worse than the loss of the character was the fact that Clarke (Eliza Taylor), his onetime love interest, ultimately ended his life. The mercy killing during their goodbye spared Finn the brutality planned by Grounder leader Lexa's (Alycia Debnam Carey) people but broke many hearts. "I wanted to chart somebody's devolution as a result of what happed in the previous season—the war they had gone through [with the Grounders]," says Rothenberg, citing real-life accounts of PTSD among U.S. soldiers as "something sci-fi can shine a light on without being preachy." And since The 100 doesn't balk at the true ugliness of crime and punishment, Rothenberg maintains that "once the massacre happened, there was only one way for that story to resolve, and that was with Finn's death."
How will Clarke's people react to her bisexuality?
Please, that is the least of their concerns. "We are definitely dealing in a universe where they have bigger things to worry about than who is having sex with whom or who you're attracted to," Rothenberg says with a laugh of his leading lady's surprising flirtation with Lexa. "Survival becomes more important than that. Same thing with gender and race. None of these things matter. It's just whether you're weak or strong." And while Rothenberg confesses that Clarke was not conceived as sexually fluid, he is tickled to be breaking some ground. "I don't know many shows where the gay or bisexual character is the lead. And to have her kill Finn, one leg of her love triangle, and then reveal herself as bisexual in the same season is pretty cool."
Will Clarke get past Lexa betraying the Sky People?
Agreeing to pull her troops out of the joint attack on Mount Weather, Lexa left Clarke and Co. to perish at the hands of Mount Weather president Cage's (Johnny Whitworth) marrow-harvesting medics. That's gonna leave a mark. "Clarke had lowered her defenses and trusted her," Rothenberg says. "She was falling for [Lexa] as much as somebody could in the short amount of time they had been together. That compounds the betrayal." Should the pair cross paths again in Season 3 (Carey is now a series regular on Fear the Walking Dead), Rothenberg is positive "that will certainly be the first thing they talk about!"
Plus: Get more The 100 news on TV Insider's Comic-Con page.
Mount Weather is no more, so what's next for the Ark's survivors? Time to start nesting!
"We will find Camp Jaha evolving into what feels like a Deadwood…buildings start to go up and people start settling in," Rothenberg says. He also hopes to bring in more of the 12 Grounder clans, including the Ice Nation and the Tree Crew, as tensions among them begin to brew again. "Now that Mount Weather is gone, the tribes are at risk of sliding back into the world before Lexa unified them all—every man for himself."
Did Jaha (Isaiah Washington) and Murphy (Richard Harmon) actually find the City of Light?
"We were deliberately ambiguous about whether there really is a City of Light," teases Rothenberg, revealing that the island this odd couple discovered in the finale "is not in fact the City of Light." The ongoing search for the mythical hot spot, which he officially confirms does exist but "is not what people are so far imagining," will be "a big part" of next season.
What was in the water?
The sea beast that devoured Jaha and Murphy's traveling companion on their boat ride to the island was not, Rothenberg vows, some sick security system. "I have seen people online making predictions that it was somehow the defense of the AI, Alie [Erica Cerra], to keep people from the island. That is not true." Instead, he says it was a callback to the monster in the pilot, "the one that gave Octavia [Marie Avgeropoulos] a nibble on the thigh…same species, but maybe that one's mama."
Speaking of Alie: Is the AI bombshell that greeted Jaha connected to the video of the suicidal guy Murphy found in the island bomb shelter?
"The logical conclusion to draw is that Alie is the AI that somehow launched the nukes that ended the world, and the guy in some way feels responsible," Rothenberg says. Is he the creator of the AI? That will be explained next season, as will the state of the world before the apocalypse. "We will understand everything, and it will be surprising," adds the executive producer. "It has a big impact on the present-tense story."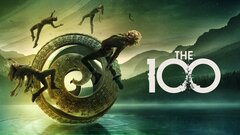 The 100
where to stream
Powered by