Teen Titans Go! Gets Serious in Young Justice Crossover Episode
Teen Titans Go! is one of Cartoon Network's most popular shows, but its success has become no laughing matter in a certain corner of fandom. Those who prefer their superheroes serious—and who are still bitter over the network's cancellation of the action drama Young Justice—have chafed at Titans whimsical, comedic take on the DC Comics characters.
So when producers Michael Jelenic and Aaron Horvath were on a tight deadline for a script, they turned to their haters for inspiration. "I always find that it's easy to write what I call angry scripts, where you're responding to someone who hates you," Jelenic says. "We took a lot of the criticism from a lot of vocal people on the internet and embraced it."
The resulting episode ("Let's Get Serious," airing Thursday, Feb. 26) features Young Justice characters Aqualad, Superboy, and Miss Martian giving the Teen Titans a lecture on their lowbrow approach to caped crusading. "You and your team have brought nothing but shame to all superheroes. The Teen Titans are a disgrace," Aqualad tells Robin. "You are a mockery of everything the world holds sacred about superheroes."
Ouch! "A lot of the things that Aqualad says is taken from what we read on Twitter and the message boards," Jelenic admits. "Anything that he complains about has been said about our show." (Ironically, Aqualad is voiced by Khary Payton, who also plays Cyborg on Teen Titans Go!)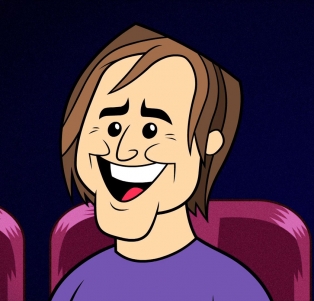 Jelenic has learned to, well, laugh off the criticism. "I get where the more serious fans of superheroes are coming from, but we're in the golden age of superheroes," he says. "There is never going to be a better time to be a fan, and if you want serious stuff, there are movies and TV series out there. Ours is just one silly blip in the radar."
As if the episode isn't already meta enough, they snuck in an Easter egg that is sure to make Jelenic's mom proud. While Titans member Raven performs a stand-up comedy routine—it doesn't get much less superhero than that—the only person in the audience who laughs is a dead ringer for Jelenic (right). "We wrote a much longer stand-up routine for Raven," he says. "We wanted something that was terrible and I wanted it to go on for three minutes. I begged the director [Peter Rida Michail] to let it go, but he wisely edited it down. He put me in there, and that's actually me laughing. They recorded me with my annoying laugh."
Teen Titans Go! airs Thursdays at 6/5c on Cartoon Network.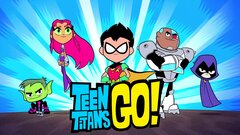 Powered by