Sasha Pieterse Teases 'Pretty Little Liars' Finale (VIDEO)
Freeform's uber-popular Pretty Little Liars wraps its series run Tuesday night, and not even the villainous (and mysterious) A.D. was going to stop us from chatting with star Sasha Pieterse (who plays Alison DiLaurentis) about the finale episode.
Of course, it didn't take long into to get into talk about Emison, aka the romantic pairing of Alison with Emily (Shay Mitchell). "We're really happy to give the fans this gift of this romance that they've been waiting for for so long," Pieterse said about the positive fan response to the coupling, which has been teased for a long time but has finally come to a good place in these last episodes.
When asked by a Facebook Live viewer if there would be bloodshed in the finale, Pieterse laughed and said, "It wouldn't be PLL if there wasn't, right?" She also teased, "I can't tell you exactly what it is, but I don't think it's what you would expect." Finally, while she couldn't say much, she did say that the long-awaited reveal of big bad A.D., is "insane. [The viewers are] going to go nuts just like I went nuts."
As for what's next for the actress once Pretty Little Liars is fully behind her, she's working on her blog, Sasha In Good Taste, where you'll see a lot of DIY projects, recipes and inspirations. But since Pieterse knows how to throw a party, she also has a cookbook coming out in the near future. "The first [book] is going to be really simple," she explained as to the challenge-level of the recipes she'll include. "There are going to be little bite-sized dishes and tapas and desserts and so they're going to be very easy." Sign me up!
To watch the entire Facebook Live, check it out right here:

The Pretty Little Liars 2-hour series finale airs Tuesday, June 27, at 8/7c on Freeform, followed by a one-hour wrap up special with the series creator and cast.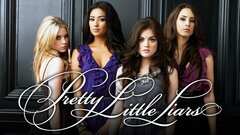 Powered by