The 'Pretty Little Liars' Tell the Truth About Spoilers (VIDEO)
If you think avoiding spoilers for your favorite twisty show is tricky, imagine being an actor on one of them and having to do interviews without spilling the beans! Not only do they need to remember what has happened—often months after filming an episode or wrapping a season— these folks also need to stay on top of what they aren't allowed to say.
That has been the last seven seasons of life for the stars of Pretty Little Liars, who may actually be able to talk about A, Uber A, A.D. and all of the various villains they have faced over the years after their June 27 series finale.
"Answering questions when I know I can't actually say the answer?" says Shay Mitchell (Emily). "It's extremely hard."
Especially with fans of the Sara Shepard's YA books poring over them for hints, leaks coming out of various sources and executive producer Marlene King's Shonda-like ability to keep everyone guessing. Still, the ladies and gents of Rosewood have made it look easy since that first ominous text message, thanks to a few secret moves which they reveal in this exclusive featurette.
Our favorite? Shay's confession at the very end that she would just play the part.
"The show is about lies, we're pretty little liars…I lied as Shay." Finally, some truth!!
Pretty Little Liars, Tuesdays, 8/7c, Freeform.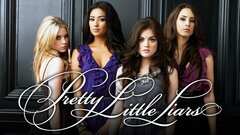 Powered by