'Shadowhunters: Is Clary Safe From Simon's Bloodlust? (VIDEO)
Yes, Climon fans are rejoicing that Clary (Katherine McNamara) and Simon (Alberto Rosende) are in a good place in and out of the bedroom. But, this being Freeform's Shadowhunters, doesn't that mean the other shoe could drop at any moment?
The news is out now that Jace (Dominic Sherwood) is not Clary's brother, so how will that change things moving forward for the former couple now that Clary is with Simon? We've already seen some highly charged moments between the duo formerly known as Clace, and we know it may continue to be tough for the twosome to be together.

RELATED: Sign up for TV Insider's Shadowhunters newsletter
But, on the Simon side of things, how in control is he? He's is still getting used to being a vampire and, more recently, being a Daylighter. As you'll see in the exclusive clip below, Luke (Isaiah Mustafa) has a heart-to-heart chat with Simn about making sure he's in control, especially when things are getting hot and heavy with Clary. And while the clip has its awkward moments that are more funny than anything else, there is a serious message to just how much Simon can control his impulses.
Check out the clip:
Should Clary be with Simon? Let us hear your thoughts on TV Insider's Shadowhunters page.
Shadowhunters, Mondays, 8/7c, Freeform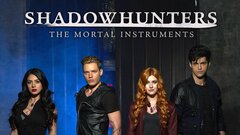 Powered by