'Family Guy' to Remember Adam West With Tribute on Sunday
Among the tributes that have been coming in and planned for Adam West, who passed away June 9 at age 88, another one has been announced. Fox will pay tribute to the late actor with a re-airing this Sunday of a Family Guy episode featuring one of West's many memorable guest voice appearances as Quahog's "Mayor Adam West."
The episode, which is called "The Dating Game" and originally aired in March, will re-air Sunday at 9:30/8:30c. In the episode, Mayor West wins the Medieval Castle restaurant in an auction, much to Peter's chagrin. The rebroadcast will be preceded by an Adam West tribute card.
West's many years of guest appearances on Family Guy further demonstrate how the actor brought joy to many generations of viewers. He is probably best remembered as Batman in the beloved '60s series, although his iconic image as the Caped Crusader is certainly recognizable even to those who never watched that series—so much so, that on Thursday night, the City of Los Angeles will beam the famed Bat-signal into the night sky in honor of the late actor.
But West also became quite recognizable to Millennials and other modern-day TV fans as Mayor West—a fun and hilarious turn that played on West's famed self-deprecating sense of humor, portraying the mayor as an intense, odd and ultimately sweet guy. Family Guy creator Seth MacFarlane told the AV Club in 2005 that the character of Mayor West was created as an "alternate-universe Adam West."
West voiced "Mayor West" almost from the beginning of the series—his character debuted in the 2000 episode called "Fifteen Minutes of Shame." From then on, Mayor West recurred in more than 100 episodes, including appearances as Grand Moff Tarkin in Family Guy's popular Star Wars parody episodes.
Sometimes Mayor West had a full storyline, especially in later years as he became more incorporated into the Quahog universe (he even married Lois' sister); other times he just popped in to drop a random and hilarious non sequitur—delivered with West's inimitable style—that could sometimes be the highlight of an otherwise dull episode. One time, Adam West even turned up in a live-action segment as another, non-mayor version of himself. Viewers last heard Adam West on Family Guy in the "Dearly Deported" episode that aired in May.
Not long after West's passing, MacFarlane tweeted out his own tribute to the friend he had worked with for so long:
— Seth MacFarlane (@SethMacFarlane) June 10, 2017
Family Guy Adam West Tribute Re-Broadcast, Sunday, June 18, 9:30/8:30c, Fox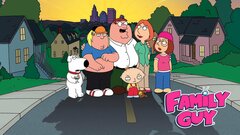 Powered by