American Odyssey's Anna Friel Talks Fierceness and U.S. TV
On American Odyssey, Anna Friel's Sgt. Odelle Ballard is one of three characters caught up in a dangerous international conspiracy. However, unlike her costars Peter Facinelli and Jake Robinson, who filmed their roles in New York City, the 38-year-old British actress was on her own journey, working in Morocco. "I didn't meet Peter," she says, "until the red carpet at American Odyssey's premiere!"
After your charming stint on Pushing Daisies, you went back to your native U.K. Did you hate American TV?
I love American TV! I was offered about 40 different pilots, but nothing was as incredibly special as Daisies. I went back to England to do the stage version of Breakfast at Tiffany's, then stayed because my daughter, Gracie [with her ex-boyfriend, actor David Thewlis], was in school there. I said yes to a Showtime pilot called The Vatican from Ridley Scott, but it wasn't picked up.
Why did you choose American Odyssey for your return?
North Africa is much closer to London than New York or Los Angeles, plus Odelle is an amazingly strong female character. I also loved that I'd have to learn Arabic; my father is a linguist and I already speak French.
It's a really physical role. How did you prep to play a U.S. soldier who goes through hell in various African locales to get home to her family?
[Laughs] They told me I would be tortured in every single imaginable way! So for months I trained daily with a former soldier and ate every two hours to put on muscle. I even began running, which I always hated. I wound up tearing six ligaments, getting a corneal abrasion, throwing my back out, and dislocating my shoulder. It was grueling, but it's toughened me up.
In this week's episode, things are looking bleak for Odelle, who's a captive of the Ansar Dine terrorist group.
She's wily and smart, so she tells the leader that they can help each other, because she can get him a flash drive with valuable information about the American government. But she is starting to realize how alone she is, that the American military and the government want her dead.
Odelle is certainly good at escaping from peril!
In the words of Shakespeare, "Though she be but little, she is fierce!"
American Odyssey, Sunday, April 26, 10/9c, NBC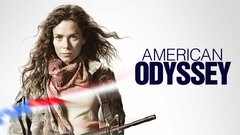 Powered by