How Bill Clinton Inspired Veep's Season 5 Premiere How Bill Clinton inspired Veep's Season 5 premiere
President Selina Meyer's first State of the Union speech was inspired by President Clinton's first State of the Union speech. As Veep creator Armando Iannucci explains of the Clinton speech, "They put the wrong draft of the speech and when it came up on the teleprompter, he improvised for 10 minutes, and it was the best 10 minutes of the whole evening." PLUS: Does Matt Walsh play Mike older on purpose?
G.E. is developing a Breakthrough science and technology documentary series for Nat Geo
Ron Howard and Brian Grazer are producing the six-part project that, according to the NY Times, "aims to create high-quality branded content that will highlight scientific innovation, some of it involving scientists who work for or with the company."
Truman Capote's In Cold Blood to become a TV event series
The book that inspired the 1967 Robert Blake movie is set to become a limited series from Gary Oldman and The Weinstein Company.
Nik Wallenda's next stunt involves a giant Ferris Wheel
Wallenda announced plans today to balance atop the 400-foot-tall Orlando Eye without a tether and a wire, but no word yet on if it'll be televised.
Van Halen's Jimmy Kimmel Live performance cost $400,000 to stage — was it worth it?
Some record labels are reevaluating their relationship with late-night talk shows, especially when 25% of viewers tune out before the musical act.
Kevin Spacey: House of Cards does the opposite of putting people off politics
"I think it's really making them understand politics in ways that they, perhaps, never had before," Spacey said in a recent BBC interview.
HBO Now passed its 1st Game of Thrones test
Thanks to outsourcing the new standalone streaming service to MLB Advanced Media, there were no major hiccups last night.
Why does Mad Men keep introducing new relationships we don't care about?
"Mad Men has a long tradition of zooming out when you're expecting it to zoom in," says John Swansburg, "bringing in some new character or storyline or milieu right when things seem to be getting interesting with the core characters in whom you have an actual investment." PLUS: All of Don's women are mirrors of his sad existence, it was thrilling to see Pima and all the clout she had, and Jay R. Ferguson talks Rizzo and his beard.
Why one black writer refuses to watch Orange is the New Black or The Wire
"What's my problem with a smart drama about women from varied backgrounds?" asks Allison Samuels. "The answer is easy: I'm simply not entertained by shows that feature large numbers of black people exiting, entering, or already in prison. Believe me, I truly adore Idris Elba. But I've never seen an episode of HBO's acclaimed show The Wire for exactly this reason."
Watch a video compiling CSI: Cyber's cringeworthy tech buzzwords
These buzzwords are only from the 4th and 5th episodes from the CBS drama's freshman season.
Inside Amy Schumer creates a "Milk Milk Lemonade" music video
Amber Rose and Method Man help Schumer poke fun at "our posterior obsession."
Silicon Valley has essentially become a documentary
"This season, some of the jokes are so dead-on that it's hard to even consider them jokes," Sam Biddle says of the season premiere, particularly referring to the BS-speak. PLUS: "Girls" meets "Silicon Valley," and is Silicon Valley hurting itself by being too realistic?
Rita Moreno is "enchanted" by Jane the Virgin
"I caught up on the show because I felt I had to know what I was saying yes to, and I was enchanted," says the legendary actress of her guest stint.
See a supercut of Better Call Saul's point-of-view shots
Point of view is the stock and trade of Saul and predecessor Breaking Bad.
David Morrissey returns to TV in The Driver
The Walking Dead vet plays a Manchester cabbie in this British import, airing on Acorn TV.
Is Cucumber the new Looking?
Logo tonight premieres the British gay-themed series from "Queer as Folk"/"Doctor Who's" Russell T. Davies.
Check out the posters for History channel's Texas Rising
Bill Paxton stars in the pre-Civil War Texas Rangers miniseries, playing General Sam Houston.
Ranking SNL's 7 Hillary Clinton impressions: Miley Cyrus is No. 6
Kate McKinnon is No. 1, while Amy Poehler is No. 2.
To really understand Daredevil, you need to understand his Catholicism
As Charles Moss notes, Matt Murdock's "brutal justice is more than his way of taking personal responsibility for the sins of others; it's his way of atoning for his own. Murdock's real superpower, and also his biggest foe, is his Catholicism."
Turn returns, but perhaps it's time to retire the Revolutionary War drama?
Turn: Washington's Spies is back for Season 2 just two months after the miniseries Sons of Liberty. PLUS: Turn turned out to be a hit for AMC.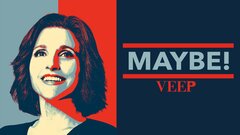 Veep
where to stream
Powered by