'Alias' at ATX: The Writers/Producers on Breaking TV Rules, Ending the Show and a Potential Revival
When Alias debuted on ABC in 2001, it was unlike anything else on television—and that was by design.
"This was the first time, probably, in television, a creator had come in and said, 'I'm going to write whatever I want, whatever story I want. I'm not going to be constrained by preconceived notions of what can or can't be accomplished on a television schedule and a television budget,'" executive producer/director Ken Olin said of series creator J.J. Abrams' vision during a reunion panel for the series at ATX Television Festival. "But I thought that was the best pilot I'd ever seen. I thought it was so sure of what it wanted to be. It had this incredible sense of humor and amazing cast. It was exciting and fantastic."
See Also
The cast and the creative team reunited at the ATX Television Festival to reflect on the series ten years after it went off the air.
The series followed the adventures of Sydney Bristow (Jennifer Garner)—a young woman who thought she was working for a covert branch of the C.I.A. called SD-6, only to discover she had been duped (and subsequently became a double agent to take down SD-6), and subsequently learned many of the relationships in her life what weren't they appeared. Early on the series hit an off-screen bump, as the writers and producers tried to reconcile how to make the show in a post-9/11 world.
"We were filming an episode on 9/11; it was so devastating," Olin recalled. "It was a cosmic shift in how we all lived. [We were filming] an episode that ended with Sydney wearing a hood and holding a bomb in her hand. The show was done, always, with a sense of humor. If we lost that sense of humor, we were losing the fundamental tone of the show. To try and figure out how we were going to [proceed]…there were thoughts, is this show even appropriate now? I think partially because it was our take, and we were trying to do a show where this girl thought her parents were one thing and they were completely different, that we got through it."
See Also
After a season of controversial deaths, showrunners weigh in on fan influence.
Alias thrived on twists and turns throughout its duration, and one of the biggest episodes of the series was the post-Super Bowl installment, "Phase One," where Sydney was able to finally take down SD-6 and cease being a double agent. During the panel, producer Sarah Caplan revealed the episode—which also marked the real start in the romantic relationship between Sydney and her handler Vaughn (Michael Vartan), plus included the twist that Syd's roommate/best friend Francie (Merrin Dungey) was killed by her own doppelgänger—was a last-minute addition.
"We had another show that was supposed to be [post-Super Bowl]. It was a really dark show…I think the post-production lady had about four days to turn the visual effects around. We were shooting 18-hour days. It was unbelievably stressful to get the episode out in time."
The series also faced a challenge in its fifth and final season as Sydney became pregnant (to accommodate Garner's real-life pregnancy).
"Would Sydney Bristow go on missions when she's pregnant? Would she take the risk? Would she not take the risk?" producer/writer Monica Owusu-Breen recalled the team wondering. Added Olin: "One of the things that was so special about the show is there was never a question of would you send a woman to do this job? That was why it was empowering: Sydney was going to all do it…the first time we had to deal with that was, okay, she's pregnant. And that changed things. This chick is badass, but now she has to consider it. And also we had to consider things for Jen that we had never considered and she had been absolutely adamant she didn't want us to consider. And all of a sudden we were confronted with, this is complicated in a way that changes things for all of us."
Wrapping up the series was no easy task, as the show had laid out five seasons worth of mythology on the mysterious Milo Rambaldi, whose work was ahead of his time, and an obsession for longtime Sydney foe (and former SD-6 director) Sloane (Ron Rifkin).
"I feel like someone [in the writers' room] had a chart of Rambaldi," Owusu-Breen said. "I think we had a basic sense of it. Rambaldi was an onion to be unpeeled. There was a lot of discovery of new Rambaldi stuff along the way."
To bring closure to Sloane's arc, the writers gave him the most deliciously fitting end: he became immortal, but Sydney's father Jack (Victor Garber) sacrificed himself to trap Sloane indefinitely. "When that idea came up [in the writers' room], everybody got so excited," writer/co-executive producer Josh Appelbaum recalled. "He gets eternal life, but he's buried alive!"
See Also
Lennon Parham and Jessica St. Clair revealed how their real-life friendship inspired Season 3 of the USA series.
But the biggest priority for the writers was wrapping up Sydney's story respectfully.
"It felt like it was important to give Sydney her life back," writer/co-executive producer André Nemec said. "It felt like that become the North Star—how do we resolve that story?…to be able to give her control back, and if it felt like the character could move on, the audience could move on."
Sydney got her happily ever after—a normal life with Vaughn and their children. But the final scene of the series showed her daughter displayed the same kinds of intellectual skills that a young Sydney had displayed (which made her ideal for the agency life), a potential jumping off point for the story to continue. However, more than 11 years after the series concluded, there are no plans to revisit the world. "It would be amazing to do it," Appelbaum acknowledged. "[But] we wouldn't want to do it unless it was perfect."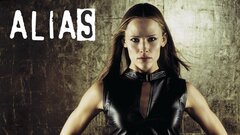 Alias
where to stream
Powered by