Could There Be More 'October Road'? The Cast Reunites at the ATX Television Festival
October Road may be gone, but for the cast and creators, it is anything but forgotten.
"Any chance we get to get together, it's like, it's ten years later, we should stop talking about this f—ing show; it's ridiculous," series star Geoff Stults (Eddie) said during the show's reunion panel at the ATX Television Festival in Austin, Texas, on Friday. "We've worked since then, but all we do is talk about this show."
The series—about an author, Nick (Bryan Greenberg), who returns to his hometown after writing a book about the people he used to be close to—had a tumultuous path to making it to air (including ABC initially passing on the pilot), but its production bonded the cast and crew.
"It was six quick episodes, we all flew to Atlanta and [nearly all] lived in the same apartment [area]," Stults recalled. "We were shooting the show and talking about the show and how great it was; we were nostalgic about a show that hadn't even aired yet. I had such a great experience on this. It informed the next ten years of my life—my friendship…we all still see each other."
October Road didn't thrive on mysteries, but the question of who fathered Hannah's (Laura Prepon) son, Sam (Slade Pearce), was played throughout the series. Though executive producer Scott Rosenberg didn't want to reveal Sam's paternity, the other producers planned to incorporate it into the story sooner versus later.
The series was canceled at the end of its second year, leaving many unfinished storylines. Co-creators Rosenbeg, André Nemec, and Josh Appelbaum wrote a ten-minute epilogue to the story that was filmed with the original cast and included on the Season 2 DVD set.
"I've never seen it done before," Odette Annable (Aubrey) said. "It gave us and the fans an ending; I don't feel you get that often. Most of the times shows go away and you don't know what happened to the characters. Because we are such a tight group and because it was such a sad thing to see the show go, to have that ending was really wonderful and also something we really valued…no one got paid; it was a labor of love, because we love the show and we love the show so much."
While there are no plans to revisit the world, the affection from the panelists—which also included series stars Rebecca Field (Janet) and Jay Paulson (Physical Phil)—was palpable.
"Josh and I will talk about October Road forever," Rosenberg said. "Nothing would make us happier [than to write it again]…If you told me the rest of my career was writing this show for this cast…I would have done it gladly."
October Road, Seasons 1 and 2, Streaming, Hulu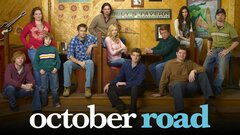 Powered by