'Playing House' Stars on How Jessica St. Clair's Cancer Diagnosis Changed Everything Except Their Friendship
After nearly two years off the air, Playing House finally returns on June 23 for its third season.
And though there are light moments—including Maggie (Lennon Parham) stressing over Bruce's (Brad Morris) new girlfriend, and Emma 's (Jessica St. Clair) panic over getting intimate (again) with Mark (Keegan-Michael Key)—one of the year's big storylines is Emma's cancer diagnosis, which was inspired by St. Clair's own battle.
"In Seasons 1 and 2, there are moments we go sad or deep…real stuff people deal with, that friends deal with," Parham said during the show's ATX Television Festival panel in Austin, Texas. "[St. Clair's cancer] had just happened, and it wasn't fun or funny, but funny things happened."
"Lennon, of course, was with me the day I found out; my husband was out of town, unfortunately," St. Clair added. "Everybody thought we were a couple…[but then] it was the three of us at every doctor's appointment."
As part of the show's writing process, the duo—who are off-screen best friends—improvised how they think a scene might go, which led to an extra bit of having to relive what they had gone through.
"We're by ourselves, reenacting the moments she found out and the moment where she met her oncologist," Parham said. "They transcribe it, we purge it out of our bodies, and then we look at what it says and it's like, there's no way we said that…when we were doing the rough draft, I remember we just stopped and held hands and hugged. If nobody sees this, it would still be worth it because of what we needed to move through it."
In getting to put the experience on-screen, St. Clair found a way to pay tribute to the people who were there during her battle. "You need help for the first time in your life, really," she said. "All of a sudden, your female friends surround you. I didn't even ask, and they'd show up. Or I'd text one of them, 'having a down day,' and then all of a sudden [one would show up], 'I was in the neighborhood!' They had a chain."
"I think what was so important, for me anyway, was to have a love letter to what these women—and my husband and my family—did for me," she continued. "Everyone raises you up and carries you through the storm. Our show is about best friendship, and I would not have survived without Lennon. I would not have survived without my best friends. I wanted to show how f—ing kickass women are for each other. There's nothing like it."
Playing House, Season Premiere, Friday, June 23, 11/10c, USA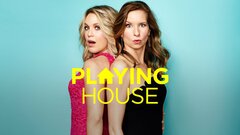 Powered by