Hey, Jammers, Check out This 'Playing House' Blooper Reel (VIDEO)
September 8, 2015. That was the last time jammers saw Lennon Parham's Maggie and Jessica St. Clair's Emma—besties both on- and off-screen—playing together on USA's Playing House.
But now, after almost two years, countless guest appearances on other shows and St. Clair's battle against breast cancer, the ladies are finally back Friday with Season 3 of the comedy that somehow manages to be hilarious and heartwarming without even a smidge of cheesiness. They're basically the best TV friends since Friends.
Of course, sometimes the best stuff doesn't even make it to air. Mostly because they're obscene flubs when the cast—which also includes Keegan-Michael Key, Zach Woods and Brad Morris—is filming. So as a gift to all of you who have been waiting for the Pinebrook posse to return, USA has hooked us up with an exclusive blooper reel from Friday's season premiere. Just be warned: Some of this stuff is NSFW. Unless you work with Bosephus.
Playing House, Season 3 premiere (back-to-back episodes), Friday, 11/10c, USA.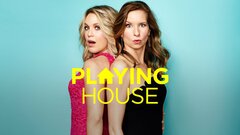 Powered by