Ranking the Songs in the Game of Thrones Trailers
Game of Thrones trailers never disappoint. But while the visuals are always stunning, it's the music that imprints those images in our minds. Sometimes it's the show's soaring, haunting score by Ramin Djawadi; other times, the sneak peeks are backed by songs found not in the banquet halls of Westeros, but the radios and iPods of our world. Some of these choices are better than others, so here's our definitive ranking of Popular Songs Used in Game of Thrones Trailers. (HBO discovered the effectiveness of this tactic after Season 1, so only Seasons 2-5 are represented.)
1. Season 2, Florence + The Machine, "Seven Devils"
There's really no contest here. It's got those beautifully gothic lyrics ("I don't want your money/ I don't want your crown/ See I've come to burn your kingdom down") and ethereal choral sound that'll send shivers down the spine of any member of the chordata phylum. Plus, Westeros' primary religion features seven gods and seven hells. Kismet!
2. Season 4, Chelsea Wolfe, "Feral Love"
This could easily be Arya's theme song. The insistent minor notes evoke the chilly danger of the north and inevitability of winter, and just read these lyrics and say they don't describe the vengeful young Stark to a T.
3. Season 3, MS MR, "Bones"
This was the most brutal of all Thrones seasons thus far—talk about a high bar to clear—and so it's appropriate that HBO heralded its arrival with a song about "forgotten savages" and "broken dreams and silent screams."
4. Season 5, TV on the Radio, "Heroes"
A cover of one of David Bowie's most iconic songs is certainly an interesting choice, particularly since, in George R.R. Martin's world, there are no true heroes. It's a nice juxtaposition in theory, and it doesn't not work, but it's just not as genius as the previous three.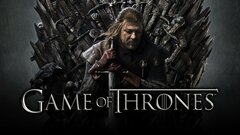 Powered by