Benito Martinez on Portraying Jose Menendez in Lifetime's 'Menendez: Blood Brothers'
It was the most infamous parricide case since Lizzie Borden took up her ax.
In 1989, affluent Beverly Hills brothers Lyle and Erik Menendez loaded newly purchased shotguns and blew away their parents, self-made movie exec Jose and his homemaker wife Kitty. A pair of lurid trials—the first broadcast to eager television audiences by Court TV and hamstrung by two hung juries—ultimately delivered the brothers to separate prisons for life with no chance of parole. But questions—and lowbrow fascination—remained.
Were the elder Menendezes overly indulgent of their arrogant sons, or sexual deviants who horrifically abused the boys, each covering for the sins of the other? Did Erik's possible homosexuality drive his father's ire? How could so much bravado fit into Erik's pint-sized attorney Leslie Abramson? What was the brothers' shrink's mistress doing up there on the stand? And did you know that young Lyle's luxuriant hair was really a costly toupee?
America loved the spectacle.
On June 11, Menendez: Blood Brothers—a new Lifetime film from Daytime Emmy-winning documentarians Fenton Bailey and Randy Barbato (Mapplethorpe: Look at the Pictures, Gender Revolution) and starring American Crime's Benito Martinez as Jose, rock goddess Courtney Love as Kitty, The Following's Nico Tortorella as Lyle and Myko Olivier (Glee) as Erik—takes a deeply personal look at the case and its most disturbing details.
"We try to give credence to the reasons that the boys have given about why they hated their parents so much," says Martinez, asked if the film takes a position on the brothers' sexual abuse claims. "Fenton and Randy did a great job of taking us on a journey as to what it must have been like to be raised in a family that had all the money in the world, but a very overpowering and misogynistic father who was trying to raise his kids in his own image. To that degree, the monster was raising monsters."
Martinez says he drew on a wealthier version of A Streetcar Named Desire's Stanley Kowalski and Eddie Carbone in Arthur Miller's A View From the Bridge to shape his fatally flawed Jose.
"I don't have the capability to go into the mind of a child predator—I wouldn't allow myself that," Martinez explains. "But I will allow myself to have the capability to be a misogynist and an overpowering person and an overbearing jerk. The angle that I took is that this man believes in his own power, and it was corrupting."
Regarding Kitty's culpability in her horrific fate, Martinez calls her the tragedy's biggest victim.
"This was a caring, loving person who gave up her life to raise the kids, a woman who had an education and a great life on her own and became the shadow of this man and his boys, who were just living their life as complete destroyers," he reflects. "It's not a big leap to conclude that Jose was also a sexual deviant, that he had his mistresses and his prostitutes, and he was going to fiddle with the boys, as well. Jose had no boundaries."
While Love's casting might surprise some, the 52-year-old enigma delivered an award-winning performance in 1996's The People vs. Larry Flynt and has well-documented personal experience with complex family dynamics.
"I expected a rock 'n' roll attitude, and it was completely the opposite," Martinez says of his "gracious and dedicated" costar. "At this point in the story, Kitty's personality was a fractured person who was constantly trying to numb herself from the reality of what she was seeing around her—which was that her kids were out of control, and her husband didn't love her anymore. Courtney was brilliant."
Martinez adds that, while each actor thoroughly researched their character and the case and often compared notes on the Menendez family dynamic, they tried to keep each other laughing, too. "'Hug me now, kill me later!'—that's the kind of morbid jokes we had on set, because we had to keep it light," he chuckles. "And I can't say enough wonderful things about Nico and Myko. They look remarkably like the boys that they portray, and they certainly capture an essence of children who long to love their parents while at the same time hate them passionately and hate the situation passionately.
"Our story does a great job of creating a real family atmosphere gone wrong, and the tension never leaves. There are two different realities of 'before the murder' and 'after the murder,' and our film brings the audience along that journey."
Menendez: Blood Brothers, Movie Premiere, June 11, 8/7c, Lifetime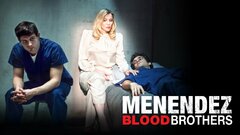 Powered by