What Does It Mean to Be 'Intersex'? 'Gender Revolution' Doc Answers That and Many Other Questions (VIDEO)
On Monday, National Geographic Channel will premiere its ambitious, deeply moving two-hour special Gender Revolution: A Journey with Katie Couric. The documentary explores the complexities of gender in everyday life — across generations, social strata, the nation and the planet — via Couric's intimate discussions with scientists, psychologists, activists, authors and, in the program's most deeply moving segments, everyday folks and families.
Ahead of the premiere, Nat Geo shared an exclusive clip with TV Insider. The segment examines intersex, a common biological condition Dr. Joshua Safer one of the documentary's experts says is as common as being born with red hair. "We all know someone who is intersex," Safer says, "even if we don't know it."
Couric says finding that common ground was her driving force in helping to create Gender Revolution.
"I had sort of a baseline level of knowledge about these issues, but I had never really rolled up my sleeves and spent time with many of these individuals," Couric explained at January's Television Critics Association winter press tour, "so everything was a surprise to me because I was learning something every day. I was surprised about how many intersex babies are born and what the standard operating procedure is when it comes to dealing with these babies and how there's a real movement to reevaluate. … I tried to put myself in the position of people who wanted to learn and understand these issues and to ask the questions I thought people at home would be asking if they had the privilege and opportunity to meet some of the people you see here."
Gender Revolution: A Journey with Katie Couric, National Geographic Channel, Monday, Feb. 6, 9/8c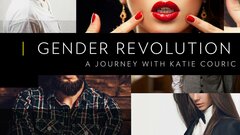 Powered by