What's Worth Watching: The Messengers Assemble!
The Messengers, "Strange Magic" (Friday, April 24, 9/8c, The CW)
The Devil went down to Houston, and he's stirring up a whole lot of trouble on the new supernatural drama The Messengers. Last week's premiere showcased the five individuals who died and came back to life with newfound abilities, such as super strength and the power to heal. Tonight, they all come together in a Houston hospital where Rose (Anna Diop) has just awoken out of a seven-year coma and informs the group that they are all Angels of the Apocalypse tasked with stopping the Devil (Diogo Morgado) and preventing the Rapture. But astronomer and atheist Vera (Shantel VanSanten) is skeptical since she has not yet discovered her own power and wants to be reunited with her son, who was taken from her by the Devil seven years ago. After a new prophetic vision by preacher Joshua (Jon Fletcher), the group decides to work together to stop the Devil and find Vera's son. It's one hell of a ride.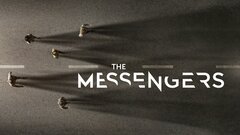 Powered by