Ashton Kutcher Returns to 'The Ranch' on Netflix: Inside His Heartland Labor of Love
Colorado's Bennett brothers—comprised of ex-football star Colt (Ashton Kutcher) and semi-screwup Rooster (Danny Masterson)— were grappling with a whole new herd of issues (pun intended) when we last saw them in Netflix's The Ranch. Colt's plan to propose to high school sweetheart Abby (Elisha Cuthbert) was derailed by the fallout from a one-night stand; Rooster had abandoned the family's failing farm for a more corporate outlet elsewhere; and their parents, Beau and Maggie (Sam Elliott and Debra Winger), had finally, painfully signed their divorce papers after a valiant attempt to mend fences.
Not exactly typical sitcom fare, but The Ranch is not a typical sitcom. With salty language abounding and the show shot in multicamera format before a studio audience, it is more like the sister-wife to Netflix's socially-up-to-speed, Norman Lear–produced One Day at a Time reboot. What results is an oddly endearing hybrid of broad comedy and tense family drama that doesn't telegraph its laughs as much as mine them from the characters' many flaws.
But at its heart, the show remains an exploration of the relationship between the boys, which gets a boost of riotous realism from the evident bond shared by former That '70s Show costars and longtime pals Kutcher and Masterson. "His big break was That '70s Show, and if you watch the first couple of episodes of Season 1, our timing was already on," Masterson told TV Guide Magazine when The Ranch premiered in 2016. Here, the smarter-than-anyone-ever-gives-him-credit-for Kutcher expands on how the Netflix series is doing what no other TV show is attempting to, sharing the small screen with bona fide legends and which of his costars can
actually kick his ass.
The Ranch is not afraid of espousing conservative ideals.
It's the whole reason to do this show! We saw that conservative values weren't being represented anywhere on TV, and if they were, they were being made fun of by the creators. There is this growing divide in our country, so we tried to find a way to be authentic and challenging at the same time, while not losing who the characters are and what they believe.
And yet there is a sizable audience out there for the show.
If you look at our demos, it's almost like a photo negative of every other comedy and every other show on Netflix. The people we're speaking to, who can relate to these characters, they are that photo negative. I've always felt trying to tell people what they should believe is wrong. You're never going to connect that way. So allowing the audience to feel what [our characters] feel and maybe expose some of the flaws in their thinking might be a better way to shift cultural perspectives.
The characters' struggles are very real: failing businesses, divorce, tech overtaking labor. In Season 2's early episodes, you even tackle abortion, plus the subject of immigration when your other That '70s Show chum Wilmer Valderrama returns to guest star as Rooster's ranch hand Umberto. It was easy in the beginning for the series to get critically written off because it's a [multicam] sitcom, but I think as people continue to watch, they're realizing that we're really dealing with important social issues.
Is Sam Elliott as intimidating in real life as he is on screen as your dad, Beau? [Laughs]
Sam is just a powerhouse, man. Those are the scenes I get most excited about, when I get to go head-to-head with him, because he's so authentic. He definitely keeps me on my toes.
It's poignant to see Beau—this big, strong man so rooted in ranching—slowly deal with the changing industry.
He's the central axis to the show in many ways. And this was something else we realized too—there wasn't really a strong father-son show on TV. Generationally, we're constantly redefining what it means to be a man. Sam captures that so beautifully.
You have said you wanted Sam to play your dad because he could believably kick your ass. I believe that Debra Winger could probably kick your ass as well. [Laughs]
Her Maggie has always been meant to be tough as nails, somebody who could stand up to Sam's character, then turn the corner to compassion. And when you're the bartender in one of these small towns [as Winger portrays], you've gotta be able to put up with some s–t.
The show delves openheartedly into the idea of children relating to their parents. You have two kids now. What if one or both of them wish to become actors?
I don't have that, "Oh, I don't want my kid to be an actor" thing. My wife [Mila Kunis] and I both have businesses other than our acting. I have a venture capital fund, and Mila runs her production company. I think that's the result of spending time in school learning, getting a strong foundation in a lot of things, so that you don't have to depend on an acting career. It's one of the only jobs in the world where every six months you gotta go on a new job interview, right?
The Ranch, Season Premiere, Friday, June 16, Netflix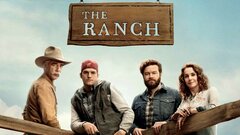 Powered by