Reign is Back, With a Return From the Dead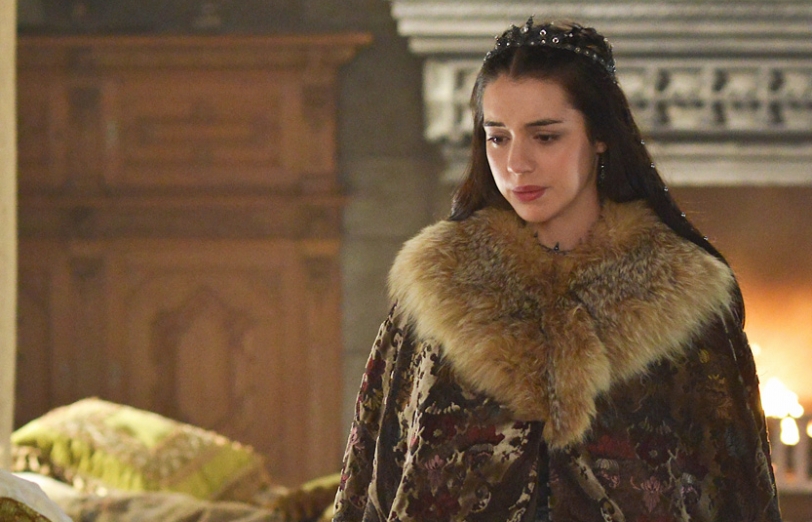 Reign is back from hiatus Thursday with betrayal, murder, and the shocking return of Clarissa (Katie Boland)–the disfigured, illegitimate daughter of Catherine de Medici (Megan Follows)–whom most members of the French court believe to be dead. "We've been talking about reintroducing Clarissa since she left the canvas [last season]," reveals executive producer Laurie McCarthy. "I always knew she was going to come back. We were just waiting for the right moment."
Clarissa's reappearance now doesn't bode well for half brother Francis (Toby Regbo), the young King of France who's gravely ill with a mysterious infection. After all, Nostradamus prophesied the untimely death of one of Catherine's first-born children; with Clarissa still alive, is Francis doomed? His half brother, Bash (Torrance Coombs), will wonder the same thing when he stumbles upon Clarissa, who, McCarthy teases, "is about to be put to death" by villagers who have come to believe she's a witch.
The real Francis died at age 16 from a fatal ear condition, and although this period soap has often tweaked historical facts, McCarthy insists Francis's fate won't ultimately be one of them. "His death is something that, when we get to it, will pay off," she says.
With the king unable to rule, look for his guilt-ridden wife, Mary (Adelaide Kane)–who has been hooking up with Francis's ambitious cousin Conde (Sean Teale)–to step up and reign solo. One of her first orders of business: deciding whether or not to send France's troops to protect her native Scotland. "She feels like her nation is in peril," McCarthy says, "and she needs troops to secure her rule there. But this would come at a price–the security of France–so it's an incredible moral dilemma."
The teen queen won't be the only one facing an impossible choice: Before the end of the episode, another major character's quandary will lead to homicide. Says McCarthy, "It's complicated, dark, weird, and potentially magical."
Reign, 9/8c, The CW