Watch My Show: Barely Famous Producer on Blurring the Lines Between Scripted and Unscripted
Jason Carbone has been producing reality TV for nearly 20 years, working on shows like Road Rules, The Bachelor and Run's House. But for his latest series, VH1's Barely Famous, Carbone is having a little fun with the genre.
Barely Famous, starring sisters Erin and Sara Foster, looks like a typical reality docuseries—but it's actually a comedy skewering the format. The Fosters play versions of themselves on the show, which follows their misadventures through Hollywood. In this exclusive clip from tonight's episode, the two debate red carpet fashion choices:
Carbone [below], whose current credits also include Cooking Channel's Reverend Run's Sunday Supper and TBS' Meet the Smiths, took our showrunner survey to explain why Barely Famous should foster your attention.
I have time to watch one more show. Why should it be yours?
Reality television has been a mainstay for over two decades now and audiences feel they know what to expect and the different types of shows out there. This show throws all that out and asks you to start from scratch. Anytime that happens in television is something that you should want to check out.
Who should be watching?
People who love comedy and are looking for a good laugh. That's what this show is. A comedy that gives the audience laugh-out-loud funny moments in every episode. If you are having a bad day or just want to smile, this show is the cure for what ails you. And guys if you suggest watching it with your girlfriend or wife, you will get points. Trust me.
What happens if we don't watch?
Do you remember the last time you felt like you were behind the curve? That sinking feeling of owning a Zune instead of the iPod. Remember how out of place and touch you felt? That's what's going to happen if you miss this show.
What's the best thing someone has said about your show?
When we showed celebrities the pilot, they all got it immediately. This allowed us to go after some really BIG names in our first season. Without their support, the show wouldn't have turned out as well.
What's the worst thing?
Truthfully, nothing bad has been said, yet.
Who was right?
Only time will tell.
What's an alternate title for your show?
Game of Blondes or Totally Confident & Completely Insecure.
Give us an equation for your show.
Blondes + Curb Your Enthusiasm.
Come up with a premise for a spin-off.
Let's get the first season under our belts before we go there.
What credit of yours would you prefer we forget?
The Real Gilligan's Island. Other then the signed picture from a television legend, Sherwood Schwartz, this is one that I should have avoided like the plague.
Tell us one thing about your cast.
They are legit multi-hyphenates. Act, write, model, produce. They do it all exceedingly well. Don't underestimate these two.
On what other series would you like to be an executive producer?
It depends on the day, but House of Cards, Gold Rush, and The Walking Dead are must-see television for me as a viewer and producer.
Let's scare the network. Tell us something that didn't make it to air.
A "sex tape" episode. We still have Season 2…so maybe I should go back and re-answer the spin-off question.
Finish this sentence: "If you like________, you'll love our show."
If you like to laugh and are fan of comedy, you'll love our show.
Pick a show and start a fake feud.
Can't we all get along? But if you want to help us start something with the Kardashians, we would be open to discussions. Only caveat is it would have to play out on Twitter.
What other show would you like to do a crossover episode with?
[Keeping Up With] The Kardashians. Erin steals one of Kylie's boyfriends and opens up a Hatfields vs. McCoys-type feud.
How will your show change the face of TV as we know it?
I hope this show opens a brand new lane on the Entertainment Superhighway
Barely Famous, Wednesdays, 9/8c, VH1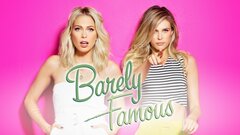 Powered by