New 'Carmen Sandiego' Animated Series Coming to Netflix; Gina Rodriguez to Voice Title Character
Millennials rejoice—one of the iconic franchises that most people of a certain age remember fondly is returning in the form of an animated series when Carmen Sandiego launches on Netflix in 2019. Website The Tracking Board first reported the news, and that Jane the Virgin star Gina Rodriguez will voice the title character. According to Variety, Stranger Things' Finn Wolfhard is voicing Player, Carmen's chief accomplice and friend. The series will consist of 20, 22-minute episodes.
The character of Carmen Sandiego first appeared in "Where in the World Is Carmen Sandiego?," a series of educational computer games, starting in 1985. Set in the form of a mystery, the games asked users to find the infamous Carmen and her henchmen somewhere around the world, teaching kids (and others, most likely) about geography as they needed to use clues to identify cities in the U.S. and abroad in order to find out just, well, where in the world Carmen was.
Carmen has also been a TV star before. She appeared in the PBS kids' game show Where in the World Is Carmen Sandiego?, which aired from 1991-95, and in the animated series Where on Earth Is Carmen Sandiego?, which aired on Fox from 1994-99.
Netflix's Carmen Sandiego sounds like it will maintain the franchise's combination of education and entertainment, as it is being produced by educational publisher Houghton Mifflin Harcourt. In addition to learning about geography, it appears viewers will also learn more about Carmen herself, and what motivated her to her life of crime (a Netflix release says that viewers will "learn who in the world is Carmen Sandiego, and why she became a super thief."
Carmen Sandiego, Coming in 2019, Netflix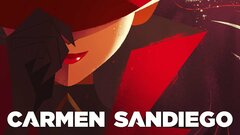 Powered by