Truer Blood? The Freaks Come Out at Night in NBC's Upcoming 'Midnight, Texas'
If you miss True Blood, the sexy supernatural series based on Charlaine Harris's bestsellers, you might want to add some tasty Midnight, Texas barbecue to your summer fantasy menu. NBC's new thriller is adapted from Harris's most recent trilogy, about a Lone Star berg populated by freaks hiding themselves away from normal society.
The otherworldly drama begins when a medium named Manfred Bernardo (Blindspot's Francois Arnaud) arrives in Midnight. "He's on the run because he's done some very bad things to some very bad people," Arnaud explains. "He wants to settle down in a calm, peaceful place—and his dead grandmother suggests he'd fit right in there." Yep, Manfred communicates with spirits.
See Also
The latest Charlaine Harris TV adaptation is coming this summer and the cast gave an early preview.
The one-stoplight town, however, is far from the quiet sanctuary he was hoping for. The house he's rented is full of ghosts, and when a woman is found dead during a picnic, the Midnight citizenry—including a vampire (Peter Mensah), a weretiger (Yul Vazquez), a witch (Parisa Fitz-Henley) and an angel (Jason Lewis)—become wary of the newcomer. So do the few local humans, except for a pretty young waitress named Creek (Parenthood's Sarah Ramos). "Manfred and Creek quickly bond over their dark pasts," Arnaud says. "Like her, he struggles with demons inside him."
True Blood was driven by sex and desire, "but the theme in Midnight," says executive producer Monica Owusu-Breen (Marvel's Agents of S.H.I.E.L.D.), "is community—people who are different wanting to live in peace with their tribe." That wish, already threatened by suspicious cops and a vicious gang, could face total destruction as the season goes on.
See Also
The new series tells the story of a remote town in the Lone Star state populated by otherworldly misfits.
Also jeopardizing their utopia is the fray in the thin veil between our world and Hell. "The last time that happened demons came through," Owusu-Breen says. As the portal once again starts to open, Midnight becomes ground zero for all kinds of evil creatures. "And soon," she adds, "there will be a decision to make: Flee the coming conflict or protect the place they've finally found a real home in?"
Midnight, Texas Premieres Monday, July 24, 10/9c, NBC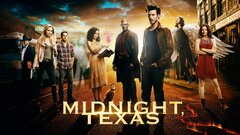 Powered by