Tina Fey Talks 'Kimmy Schmidt' Guest Stars, Including 'Delightful' Ray Liotta
Season 3 of The Unbreakable Kimmy Schmidt is about to drop—Netflix will unleash all 13 episodes Friday, May 19th, and series co-creator and executive producer Tina Fey has filled this batch with guest stars galore. In addition to returning stars like Jon Hamm as Kimmy's (Ellie Kemper) former captor Reverend Richard Wayne Gary Wayne, Amy Sedaris as demented socialite Mimi Kinasis and Fred Armisen as gassy, suspected killer Robert Durst, the third season will also feature Hamilton's Daveed Diggs, Big Little Lies' Laura Dern, Imaginary Mary's Rachel Dratch and Shades of Blue's Ray Liotta.
"He is delightful," raves Fey of Liotta, who pops up in episode 10 as Paulie Fucillo, (per Netflix's description) "a hardworking owner of a local convenience store" with two rules: "One, the bathroom is for customers only, and two, never box yourself in with an unnecessarily low number of rules." That first rule is gonna be the start of his troubles, previews Fey.
"We find out that Tituss (Titus Burgess) has always used [the store's] bathroom down the road to poop in. He's never pooped in the apartment," laughs Fey. "He's like, 'I would never do that! Bathrooms are for eating and for pep talks and stuff…you don't poop in there.'" With Liotta's Paulie taking over the location and putting a lock on the lavatory, Fey continues that "Tituss is at a loss at to how to win this guy over and how to get a key. So, he ends up kind of pulling a heist to make a copy of the key. Ray is really funny."
The same can be said for Andrea Martin, who has been chronically hysterical on Great News and is due to bring just as many howls with a one-shot gig as Linda from HR. In this exclusive pic from the episode, she's obviously one of a committee tasked with handling some sort office issue with Tituss…meaning that someone finally gets a job!
Dern, whose casting was "a dream come true for all of us," says Fey, will appear in episode 3. According to Netflix's release, the Emmy winner's Wendy Hebert is "the well-intentioned but naïve woman engaged to Reverend Richard."
The very busy Diggs recurs as Perry, "a brilliant, 30-something philosophy undergrad at Columbia University [who has] worked his entire life to get to the Ivy League, missing out on most of his 'fun' years in the process, which is something Kimmy can definitely relate to."
See Also
This female is strong as hell!
Given that Kimmy is headed to Columbia, as well, do the two wind up in the dorm room where it happens? "There's a little bit of romance," hints Fey. "There's not a huge amount, but there's a little bit, yeah."
That may be helped along by Dratch's appearance as Professor Leonora Van Arsdale-Yates, as well as her wife, Professor Dianne Delamonte-Shapiro. Netflix's description of the multi-named, dual roles reveals that "between making tenure and achieving 'lesbian bed death,' they host dinner parties with interesting guests like Kimmy Schmidt and her friend Perry." Hopefully, Kimmy is classy enough to bring them a bottle of Peeno Noir.
The Unbreakable Kimmy Schmidt, Streaming, Friday, May 19, Netflix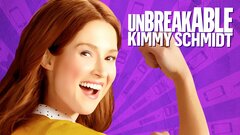 Powered by