Producer Promises There Are More 'Imaginary Mary' Stories to Be Told
Imaginary Mary, ABC's quirky family comedy, has a unique animated title character—Mary (Rachel Dratch), Alice's (Jenna Elfman) imaginary friend—but the writers wanted to make sure to ground the series.
"You guys are going to see, as the series evolves, where [Mary] goes because there is a little arc to the season itself which I think is fun," executive producer Patrick Osborne told reporters. "In success, we hope that we can open up that world a little bit more and let her evolve as a character, too…There's this whole other idea of the world of Mary, and what her other existence [outside of Alice] is, that's fun to play with, too."
Although Alice is adjusting to life with her boyfriend Ben (Stephen Schneider) and his kids—which prompted the return of her long-dormant imaginary friend—her progression won't put Mary's presence in jeopardy.
See Also
Jenna Elfman talks about working on ABC's 'Imaginary Mary', in which her character's childhood friend returns in bold, opinionated form.
"The nice thing about this kind of situation is there's always something to learn," Osborne said. "When you're entering a family like this, mid-development, basically, there seems to be an endless supply of situations that are new. Mary becomes the angel and the devil on Alice's shoulders in all of those situations, whatever they might be."
"It's exciting," added Elfman. "You'll like the season finale, too. It deals with all of that."
Imaginary Mary, Tuesdays, 9:30/8:30c, ABC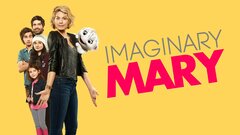 Powered by