7 Kimmy-tastic Moments in Honor of 'Unbreakable Kimmy Schmidt' Season 3
Netflix subscribers can soon breathe a sigh of relief, since Season 3 of the original series Unbreakable Kimmy Schmidt is set to premiere May 19.
All 13 episodes of the third season will be available then, but while fans are waiting for their favorite redhead and her sassy sidekick to return, here's a look back at some of Kimmy's best moments.
1. Kimmy's drab-to-fab makeover.
In the first season, Kimmy (Ellie Kemper), is still learning about the social graces of life in 2015, but when she's invited to one of Jacqueline's (Jane Krakowski) parties she has to improvise her look. With the help of her favorite roommate Titus (Tituss Burgess), Kimmy's ensemble of basketball shorts-turned-into-an-off-the-shoulder dress becomes worthy of high commendation, even if her behavior doesn't.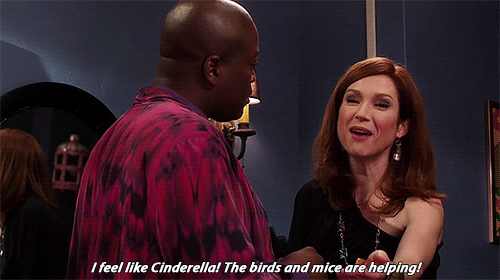 2. Any time Kimmy and Xan try to outwit each other.
When Kimmy and Jacqueline's stepdaughter Xanthippe (Dylan Gelula) come in contact with each other it is a never-ending battle to out "burn" the other. Among one of the best burns by Kimmy: "Hey, Xan. 2090 called. You're dead, and you wasted your time on Earth."
3. When Kimmy took relationship advice from Lillian based on her relationship with "Robert Durst."
In the second season, when Kimmy is still pining after her crush Dong Nguyen (Ki Hong Lee), Lillian (Carol Kane) gives her advice based on experience with her former flame, Robert Durst (yes, that Robert Durst). When Kimmy disagrees, Lillian explains the "moral relativism" that runs rampant in NYC.
4. The time Titus taught Kimmy about internet comments.
When Titus goes to put on his one-man show, a group of protesters find his premise offensive, and as the sarcastic comments rolled in, Titus had to teach Kimmy a valuable lesson—that lesson being that internet comments should be read like Friends' Chandler, and not Joey (i.e., with sarcasm).
5. Kimmy's screaming match with her mom, mid-roller coaster ride.
In the last episode of Season 2, Kimmy travels to Florida to confront her mother (Lisa Kudrow), who abandoned searching for her after a number of years. After a "fun"-filled day at Universal Studios, Kimmy's anger finally comes to a head, and she winds up in a screaming match with her mom mid-ride, the conversation literally going to new heights.
6. Kimmy's happy place.
This happy place is something her therapist, Andrea (Tina Fey), told her to examine, and when we travel there with her, it includes Disney-esque music and bright cartoons. The cheery place soon turns ugly with the presence of the Reverend (Jon Hamm), because Kimmy decides to channel her anger in this happy place.
7. Kimmy's face-to-face with Dawson's Creek's Pacey.
When Kimmy decides to take her relationship with Dong to the next level, they make an excursion to a convenience store. The clerk then proceeds to have a conversation with Kimmy and Dong about Pacey from Dawson's Creek with Joshua Jackson, the actor who played said character. The moment was almost too much to handle.
Unbreakable Kimmy Schmidt Seasons 1-2 streaming now on Netflix. Season 3 available May 19.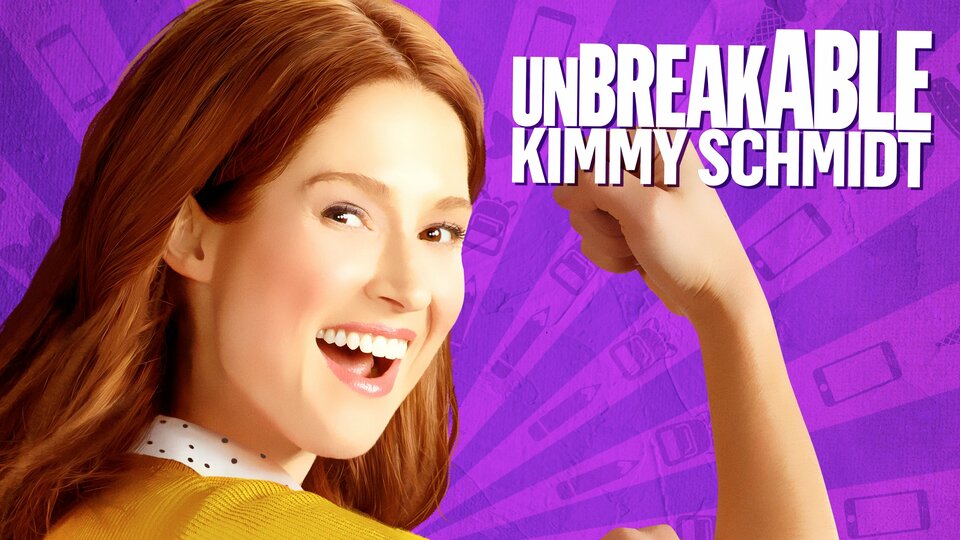 Powered by