'Supergirl' Pits Wonder Woman Against Lois Lane…Sort of (VIDEO)
Supergirl is racing towards next week's second-season finale with the battle between Kara (Melissa Benoist) and Mon-El's maniacal mother, Queen Rhea (Teri Hatcher), heating up to a point where our heroine could use some backup. And in Monday's episode, "Resist," she gets it in the form of President Olivia Marsdin (Lynda Carter), who returns to National City to put the alien troublemaker on blast before she blows the entire town apart.
Of course, there is no negotiating with a woman who willingly wears a crown, has a disturbing level of attachment to her own son (Chris Wood) and wants to recapture the gory glory of their oppressive old planet, Daxam. So we can't imagine that Madam President will be able to sway Queen Rhea.
However, we are totally down with the idea of these two going head-to-head. After all, did you imagine getting to see the classic Wonder Woman and The Adventures of Lois and Clark's Lois Lane sharing scenes when you woke up today?
Check out their icy exchange here.
To make things even more femme-tastic, the episode also marks the return of Calista Flockhart's Cat Grant, who turns out to have a strange and perfectly Cat connection to our country's leader.
Supergirl, 8/7c, The CW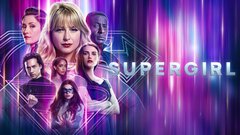 Powered by