Is 'Scandal' Ending After Next Season?
With its season finale airing next week, is the end in sight for ABC's Scandal?
Citing "multiple sources" but with no confirmation from ABC, TVLine is reporting that the Kerry Washington sudser is wrapping up after next season, which will be its seventh.
Currently, ABC's Thursday night lineup, dubbed "TGIT," is made up entirely of shows from Shonda Rhimes' Shondaland production company, including Grey's Anatomy (renewed for next season), Scandal and, currently, The Catch, which wraps up its second season on Thursday. How To Get Away With Murder, also a part of Shondaland, has been renewed and will return in the 2017-18 season.
The story cites quotes from Rhimes in an NPR interview where she spoke of the show's future and her thoughts on what the ending of the show might look like.
"I feel like there is a finite amount of Scandal to be told," Rhimes said. "So I know what the end of Scandal will be, and I feel really good about that. And I can see where the end point is. And I don't think I'm going to change that."
In an interview with Variety during the Winter TCA Press Tour earlier this year, ABC president Channing Dungey also talked of the show's future on the network.
"I know already that [Rhimes] has some great ideas for next season, which will be Season 7," she said. "We have not really talked about what happens after that. But I love the show, and I would happily keep the show on as long as she feels that she has creative runway to write the show."
Scandal, which celebrated its 100th episode last month, wasn't a huge success when it premiered in the spring of 2012 with only six episodes. By its third season, it had become a media sensation with fans for its quick-paced storytelling, pushing the envelope with sex and violence and giving us a fictional, sexy look at the White House, especially with the hotter-than-hot romance between Kerry's political fixer character Olivia Pope and married President Fitzgerald Grant, played by Tony Goldwyn.
See Also
The cast of the hot TGIT show celebrated its 100th episode this weekend in West Hollywood.
According to the TV Line story, ratings are down this season, even hitting series lows in episodes airing last month. The show's season finale airs May 18 on ABC.
Scandal, Thursdays, 9/8c, ABC.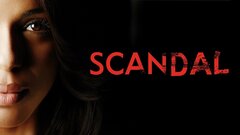 Scandal
where to stream
Powered by