'The Catch' Is Getting Funnier and Friskier: Mireille Enos Discusses Season 2's 'Champagne Cocktail' Return
He's in the slammer. She's dead broke. But it's a match made in heaven! The Catch is back for its sophomore season, with glamour-puss Alice Vaughan (Mireille Enos) trying to save her floundering private-eye business while her lover, Benjamin Jones (Peter Krause, right, with Enos), is in hot water with the feds and rethinking his life as a world-class con man. Enos breaks it down.
Alice and Benjamin are in love and fully committed to each other this season. What does that do to the romantic cat-and-mousecapades that this show was built on?
Instead of conspiring against each other, Alice and Benjamin now find that the world is conspiring against them, so it's still hard for them to live life as a normal couple. Pete and I always wanted this show to be more like Moonlighting, with our characters fighting bad guys together. With lots of personal squabbles, of course.
T.R. Knight joins the cast as Alice's brother, Tommy, a ne'er-do-well dog walker who mysteriously finds several million bucks stashed in his bank account. How does this shake up Alice's life?
She loves her brother, but he's got a big mouth and he's a reminder of a past that makes her very uncomfortable—things she'd like to keep private, things she's hiding from. Also coming in from the past is Alice's ex-boyfriend Ethan [Warren Christie]. So whatever sexual tension we might lose with Alice and Benjamin officially becoming a couple, we get back with the hint of a triangle.
The Catch has become much funnier and friskier. What's with the change in tone?
Last year, we considered our show a drama. Now we call ourselves a rom-com. Oh, we still have our high-stakes moments, but the show is more like a champagne cocktail—light, light, light! Sometimes I'm like, "Gee, shouldn't we be doing something more, uh…important?" But this kind of entertainment serves a real purpose. It's an hour where you can put your worries aside and just let the fun wash over you. We don't ask too much of you and that, in an increasingly hard and complicated world, is something pretty wonderful!
The Catch, Season Premiere, Thursday, March 9, 10/9c, ABC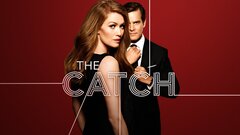 Powered by