'Underground' Season 2 Finale Recap: Sadie Stratton Talks Patty's Fate
Spoiler alert: This recap reveals major plot twists from Wednesday's Underground Season 2 finale, "Soldier." DO NOT read further if you don't want to know what happened.
Wednesday's pulse-pounder of an Underground Season 2 finale was very literally a matter of life and death as the fight to abolish slavery became less about running and more about arming oneself—physically and emotionally—for the right to one's own personhood. With a third season yet to be announced, here's how we left our favorites.
Captain John Brown sent one of his Secret 6 to inform Harriet Tubman (Aisha Hinds) that he wants her to be part of the raid on a West Virginia weapons arsenal designed to arm slaves against their captors before all are shipped to the Deep South where abolitionists will have an even tougher time setting them free.
At Georgia's safe house, Elizabeth (Jessica De Gouw), Georgia (Jasika Nicole) and Noah (Aldis Hodge) craft a plan to free Daniel's (Bokeem Woodbine) family before they can be separated for good. The mission is daring and ultimately successful, but not without loss of life on both sides. Takeaway: Elizabeth has some serious killer instincts—and not one ounce of hesitation about using them now. Also, Georgia's safe house may be no more.
Noah and Rosalee are still in a rough patch, but it's clear that family—a united family—is their shared goal. Noah proves he learned much from Harriet's call to action last episode, telling the others, "We ain't runnin'. The road to freedom is paved in blood, but no one said it got to be ours. The world we want isn't a place to run to—it's a place we change ourselves. With our decisions." Meanwhile, Rosalee teaches little James (Maceo Smedley) what he's made of. Namely, Ernestine's mettle undiluted by their father's gutlessness. Then she makes him an uncle as Cato (Alano Miller) and Patty's henchmen bust down the safe house doors. Noah finds the boys (no you're crying), but not Rosalee.
Seriously haunted by their past mistakes (with a little help from the vapors in Stine's pocket), Ernestine (Amirah Vann) and Pullman (Christopher Meloni) discover the Macon plantation in ruins. It drives Pullman to put a gun to his head, but Ernestine counsels him about learning to forgive himself. "We don't have to keep feeding the darkest parts of ourselves," she tells him, easing the gun from his hands. Effectively putting herself in the driver's seat of this duo, should we see them again.
Led to Georgia's door by Cato, Patty (Sadie Stratton) plans to finally capture Rosalee—until Cato wonders aloud why she isn't going straight for the ultimate prize that is Tubman. Because he happens to know right where she is.
There's just one problem. Early in the episode, we see Cato grooming a bewildered Patty lookalike, telling the girl that tonight he plans to make sure Patty's legend never dies. Then he concocts that plan to get the real Patty to a cabin in the woods, where she finds not Harriet Tubman, but herself on the wrong end of Cato's gun. Boom. No more Cannon. "I've learned having real power means you don't have to flaunt it," he tells Patty's poor, blood-and-brain spattered biographer. But Donahue's not out of a job just yet. "The mistake Patty made was believing in her own legend," Cato muses. "It was a pretty good legend, though—one that shouldn't die just yet. I'm taking over the Patty Cannon Gang."
Not as a free man. Not a black man. As Cato. Just Cato. And he's starting with Rosalee.
We caught up with Stratton last week, intending to talk about Cannon's burgeoning legacy—until we watched the lady-baddie take that bullet. Stratton helps us say goodbye to the real deal.
Before we talk about what, er, happened, tell me what you knew about Patty and her motivations when you signed on for the role.
Sadie Stratton: I did not know a lot! I auditioned and basically flew out the next day. So I didn't have a ton of time to prepare for it. I did my research on the plane to Savannah [where the series shoots].
Baptism by fire.
Yes. She's a sociopath, an incredibly complex person, and I felt the burden—because I was playing a real person, not a fictionalized character—to make sure that I came in grounded and did not overplay her. Just to keep her as real as I possibly could, because she did exist. What I tried to tap into for myself with Patty—because I am not a giant physical presence of a person—was that, for me, Patty was much more psychological. Serial killers—and that's what she was—are often more internal than external.
The other main thing I tapped into was her father was an English nobleman and her mother was an American prostitute. He abandoned them, and she was raised in a whorehouse, for lack of a better word. She probably had horrible things happen to her. So, how does somebody get to the point where they are dead inside? To be able to be a killer—how does somebody get to that point in their life? It's very disturbing. I tried to just think of what it may have been like to be raised in that situation. But clearly she has something missing in her. It was totally disturbing that humans were the mercantile of that day—that's a very dark time in our history—so perhaps, because of the way she was raised, there's a part of her that was dead inside and she could go into that business. It was very painful. I have never explored those things before, the things that Patty stood for.
In addition to some really horrifying ideas about human beings, you also had to convincingly wield the n-word with confidence. Was that exactly as horrible as I imagine it to be?
It was extremely hard! I still remember the first time that I had to say it to Alano. We weren't even filming, we were just rehearsing the lines, and it came to the point where I had to say that word to him. Seriously, I lost my voice. It wouldn't come out! But Alano is a lovely gentleman, a generous actor and a generous person, so luckily, on-set, we just gave permission. He gave me permission. And the other actors, as well—we gave each other permission to be able to tell the story. If you don't commit to it 100 percent, you're not going to get to the impact the story needs to have. But I'm not going to lie—it felt really bad, and it was extraordinarily challenging. If it wasn't for the beautiful person that Alano is, it would have been even harder, but we were very committed to telling the story. I had to look at Patty Cannon as that a part of her was dead inside. In order to get through some of the scenes, I had to deaden myself, if that makes sense. It was very challenging. Patty was a very narcissistic person. Being in a male-dominated world, but trying to have her own footing. Coming from obviously a very base place in society and trying to elevate herself. And unfortunately going through it in a nefarious way.
I remember the first time I even read my audition piece, I was like, "I don't want to go here. I don't want to do this." But [series creators] Joe [Pokaski] and Misha [Green] explained to me that that is how people talked and we were being true to the period to accentuate that people did not value other people. We still do that to people. It's horrible.
The idea of legend and legacy has come to the forefront this season—with the noble Harriet Tubman, but also with Cato and Patty. Patty has this poor biographer traveling with her which opens the door for Cato to easily read that hubris and work it. Tell me a little bit more about playing that element of the character—and realizing where it would ultimately head.
That it was going to be her ultimate downfall? [Laughs]
I loved going head-to-head with Cato. I loved that element as it started out, just because Alano is such a strong actor to play off of. Obviously, she has had to fight for everything in her life—but, again, she's chosen the wrong side. I think back to the first time that she met the reporter, and I remember being very interested in that scene when we first met, when really he's putting her down the entire time. He's insulting her and she's barely keeping it together. She just wants to gut him! That comes back to her narcissism—she wants fame and money. That's, unfortunately, still a very prevalent theme in our society now. She was running her empire, and I don't think she could remotely see how that could fail. [Laughs] I have a love/hate relationship with Patty. By far the most interesting person I have ever played, and by far the most complex, but also by far the most challenging and painful, too, to even explore those feelings.
But it was a necessary perspective for the show—because women aren't always the peacemakers, the voice of right and reason. Patty. Miss Suzanna. Clara. …
Season 2 was the season of the woman! And I love the fact that it was a female antagonist against a female superhero, Harriet Tubman. I remember telling Misha, "Thank you for writing such strong female characters." Because Patty really opened up my eyes. It is really interesting as a woman to explore the darker side of women. The dark ambitions. The women who are completely in charge of their own destinies.
I'm a little upended now, because I was looking forward to deeper exploration of Patty and Cato as the Power Couple of Evil clashing with Noah and Rosalee, the Power Couple for Good.
My opinion—after the fact, after I got some perspective on it, because I was like, "Wow, they're killing Patty?!"— was ultimately that Patty and Cato are too strong of individuals to work together. Patty would always have to have the upper hand on Cato, no matter what, and Cato is only going to be able to let her have the upper hand for so long before he wants all of his power back. They both want to rule the world, and there really is only room for one. Obviously, now Cato is going to go out and start his evil empire.
RELATED: Sign Up For TV Insider's Underground Newsletter
What is your takeaway, now that you are leaving this woman behind? The real Patty had a different narrative, a different fate in the history books, but hers was an important story to weave into this one.
This isn't how it goes in the history books. Patty did not actually live at the time, during the Civil War, so I know they were stretching that a little bit. But history has always been one of my favorite subjects, because it just keeps repeating itself in new forms. It just evolves into whatever the new thing is. So I think it's very important to tell these stories, to tell what happened so that maybe it might ring true to some people that we don't want history to forever repeat itself. That's what I take away from it. This show is doing and saying things that are vital and necessary—even more so now in our current situation. Even with the challenges of playing Patty, it was a major blessing to be able to be part of such an important show.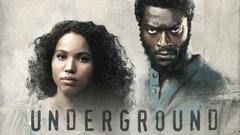 Powered by