Amirah Vann: 'Underground' Season 2 Is 'So Much About Understanding Grace'
Spoiler Alert: Read no further if you haven't watched Wednesday night's Underground episode, "Ache." Major plot points are revealed.
Apparently Ernestine didn't get the message when Table Tapper told her that spirits will follow you into the next life if you don't capture them first.
With the apparitions of husband French, the poisoned Pearly Mae and son Sam—the latest addition to her otherworldly Greek chorus—watching her from the shoreline, 'stine grabbed a large rock and tried to drown her sorrows and herself at the end of Wednesday's Underground episode.
Tapper had other plans. After all, that spirit tree will take care of the Roe Plantation slaves if they help out and take care of each other. And that's what happened. Tying themselves together to make a human lifeline, Tapper and his helpers saved Ernestine in the knick of time.
Might being delivered from a literal rock bottom be enough for her to remember how much she has to live for? After all, ghostly Sam reminded her of her unwillingness to be taken advantage of: "I thought Massa Tom was going to be the last one."
Couple that with the notion that little James is back at the Macon plantation with an, er, stepmother we're not sure we trust with his well-being. And Rosalee, a mother-to-be herself, is in the fight of her life to win freedom for 'Stine and so many others. Surely her mom should witness the warrior she's become (Jurnee Smollett-Bell is also a force in this episode).
We talked with Amirah Vann, who plays Ernestine, before the Season 2 premiere and she suggested the bereft mother may be down but not out for those very reasons.
See Also
Think the premiere of 'Underground,' WGN America's hit drama, was a nail-biter? There is much more to come this season. Stars Alano Miller, Amirah Vann, and Jessica De Gouw sat down with TV Insider to share the details!
"To me, the second season is so much about understanding grace," Vann explained. "That's a huge thing for me personally—but Ernestine operated by different rules. She was taught the rules of this horrific system and said, 'How can I manipulate, or try to manipulate, the system to better the lives of my children?'
"And they awaken into her this idea of life — and in that life, though, you have to then forgive," she continued. "In that life, you then have to have compassion. In that life, you have to realize that the woman who has sent you to be sold is hurting and is trapped as well. It takes a deep understanding and compassion when your back is against the wall to look to your side and see that there are people whose backs are against the wall with you — and to see that really sometimes the only way to get off of that wall is to grab onto the people next to you and you all get up at the same time."
Meaning Ernestine might come to Jesus—or at least the tree—after all.
"It's not going to be easy, and that's the exciting thing," Vann said. "There are new struggles that just smack her in the face, and Miss Ernestine, as per usual, takes it head on. How she comes out, I don't want to give that away — but it's a worthy journey. Whether she survives or doesn't survive, that struggle and that fight and everything she's learning along the way, the journey is what's exciting."
Vann agrees that Underground's strong female characters (how about that scene in the Roe plantation parlor?) are central to the show's appeal.
See Also
"I'm standing in this posture of reverence to her, feeling completely inadequate—that I'm not able to do justice to serve her, to embody her,
"I think that's why audiences were so eager to tune in," she smiled, "because they said 'Those are the women I recognize when I go home. Women who are mighty in their willingness to survive, willingness to love, willingness to sacrifice and willingness to succeed and to be powerful.
"That's really exciting to play—to read those scripts and say, 'I get to go on this journey completely, and it's not all about a man. It's about being a mother, it's about being a sister, it's about being a daughter, a friend. It's about being a spiritual leader. That's superhuman—the ability to be flawed and to push through. To say to yourself 'I made a mistake' and then find your way and survive it and be able to tell the next generations to help them through. That's superhuman."
And that sounds like Ernestine to us.
Underground, Wednesdays, 10/9c, WGN America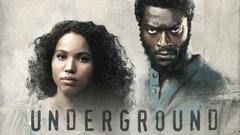 Powered by