'The Big Bang Theory' Finale: Will Sheldon Be Tempted to Cheat on Amy? (VIDEO)
In last week's episode of the long-running CBS sitcom The Big Bang Theory, Amy (Mayim Bialik) was headed to Princeton. Boyfriend Sheldon (Jim Parsons) couldn't have been more supportive, and all seemed fine with Shamy. But in Thursday's season finale, a blast from the past could cause trouble for the couple.
Die-hard TBBT fans will remember the Season 2, Episode 6 episode of the series ("The Cooper-Nowitzki Theorem") where we met grad student Ramona Nowitzki (Riki Lindhome), who took a shine to Sheldon. Jump ahead several years and Ramona is now a doctor who shows up in Thursday's episode and…well, may still have romantic intentions with Amy's man! And while it would be easy to think Sheldon would never stray from Amy, this is a season finale, where anything could happen.
See Also
The mega-hit sitcom 'The Big Bang Theory' has been extended with a two-year broadcast agreement, CBS and Warner Bros. Television announced Monday.
Check out a preview of the season finale, with Penny (Kaley Cuoco) and Bernadette (Melissa Rauch) trying to allay Amy's fears of Ramona stealing Sheldon away.
Executive producer Steve Molaro talked to TV Insider about what we'll see in the episode, and also shared what the cast felt about the episode. (Make sure to come back to TV Insider Thursday night after the episode airs for our post-mortem chat with Molaro.)
How did you land on what you were going to do in the season finale?
Steve Molaro: There were a few landing places for the end of Season 10 that had been floating around in the writers' room, and this one, in this finale, was one of them. So, as we were getting closer, the story fell into place and we got very excited about it.
With the return of Ramona Nowitzki, there's a potential wrench in Amy and Sheldon's relationship. What made you think this was a good conflict for their relationship?
We knew that Amy was going to be in Princeton for a few months. We thought it'd be fun to explore Sheldon's really being on his own now, for the first time in the show, living in an apartment by himself. A woman, Amy, he's become very attached to is now gone and [we] put him through that as a character just to see what would happen.
That was the story in point, and then [we wondered] what if he met another woman while Amy was gone? That seemed outrageous and interesting, and then we remembered we got Ramona Nowitzki, who's played by Riki Lindhome from Season 2 of Big Bang. We love her, and she's fantastic, so it made sense that this character from the past could come back, and Riki was able to do it and everything lined up for us.
What does Sheldon think about Ramona's return, and how about everyone else?
Sheldon sees Ramona as nothing more than a friendly colleague and is adorably blind to the fact that Ramona has her sights on him. The rest of the gang is acutely aware of what's going on here and is trying to help protect the Sheldon-Amy relationship while Amy's away.
Especially after Sheldon poured his heart out in last week's episode, saying how much he cares for her and counts on her, will we see Amy worried about any of this?
Amy will not like this at all. Somebody is messing with her man, and that is not OK!
What was the cast reaction when you guys did the table read for this episode?
Phenomenal. No one knew what was coming, and people were so elated.
The Big Bang Theory, Thursdays, 8/7c, CBS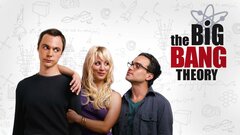 Powered by