'I Have My Own Beliefs About a Higher Power': 'The Leftovers' Scene Stealer Amy Brenneman Keeps the Faith
She Plays Laurie Garvey, a therapist who's been through it over the past three seasons of HBO's critical darling. With no dialogue in early episodes—traumatized by a Rapture-like catastrophe, Laurie joined a silent cult—Brenneman took long walks through Central Park with Leftovers creator Damon Lindelof to hash out the character's unexplored backstory. Much of what they discussed became integral to the role, like Laurie's occupation: "Damon and I made that choice together," she says.
Where You've Seen Her Brenneman created and starred in the CBS legal drama Judging Amy and played another troubled therapist, Dr. Violet Turner, on ABC's Private Practice. You may also remember her horrifying role in a 1992 Christmas episode of Murder, She Wrote. "I was a killer Santa!" Brenneman says. "I remember laughing a lot—it was hard to take seriously!"
See Also
'It's almost like there's no place to feel safe right now,' says Carroll, comparing the show with our real world.
Why We Love Her Brenneman consistently brings honesty, authenticity and intelligence to Laurie, who has spent much of this season coaching those around her through crises—even as she reaches her own breaking point. But it's in those moments when the character is at her most unraveled that Brenneman really shows off her range. "For nine episodes of [Season 1], she spoke one word and still managed to let us know what Laurie was thinking and feeling internally," Lindelof raves. "That's amazing."
Mind And Spirit Brenneman studied comparative religion at Harvard, which has come in handy for her work on The Leftovers, a show that grapples extensively with faith. She even introduced Lindelof to religious scholar and author Reza Aslan, who now serves as a consulting producer on the show. "All I do is think about people's belief systems and my own," she says. "I have my own beliefs about a higher power. That shifts all the time."
The Leftovers, Sundays, 9/8c, HBO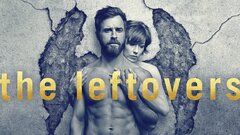 Powered by