Kevin Carroll Talks 'The Leftovers' and Profound Uncertainty
Season 2 of The Leftovers ended in a major crisis, not only for the town of Miracle, Texas, but for Kevin Carroll's character, John Murphy. With his town in upheaval and his family torn apart after the arrival of the Guilty Remnant, John was at a turning point, made even more profound by the seeming resurrection of Kevin Garvey (Justin Theroux).
In the show's third and final season, set three years later, John is married to Kevin's ex, Laurie (Amy Brenneman), attempting to come to terms with both the loss of his daughter Evie (Jasmin Savoy Brown) and with the ways that Kevin's story has completely changed the way he views the world.
See Also
Carrie Coon—also seen in FX's 'Fargo' this season—reflects the experience of working on the final season of 'The Leftovers'.
On Sunday night's episode, John, Matt (Christopher Eccleston) and Michael (Jovan Adepo), along with Laurie, follow Kevin to Australia, determined to bring him back to Texas in time for the seventh anniversary of the Sudden Departure. TV Insider spoke with Carroll recently about returning to the character for the show's final stretch.
Did you know John would be back after Season 2 wrapped?
Kevin Carroll: Absolutely not. I wasn't sure that the show would be back. It's interesting because, as actors, we're not really part of the decision-making. At the end of Season 2, the hope was that we were just getting started, that the show would get another few seasons. Because, I think the general notion is that the show was just kind of finding its momentum. So, there was that hope, [but] with The Leftovers, you never know what your character will be in store for or if they will, in fact, come back.
Season 3 opens three years later. What's it like coming back to your character after three years have passed in his life that you didn't get to play? How do you find your way back into that character at a new point in his life?
Those are great questions, and they're the hardest ones to settle into. The timestamp of the character's journey is so different than the actuality of the actor's life. Somehow, John has been able to work through some things, and he's where he is in his life's journey. It was still a bit mournful because I hadn't seen it through emotionally with [Regina King]. It had happened [for John], but I hadn't experienced that. So, in a way, it challenges you to leap into another time, space and place without having grown emotionally through the journey. And yet, give it the full weight of where John would be with Laurie at that point. And the saving grace for me was that Amy Brenneman and I have been friends for over 20 years. I was very fortunate in that I had a very good foundation with Amy. So, it wasn't awkward at all.
Was it almost like playing a new role?
It was absolutely like playing a new role. Like, I didn't know this John, and so there [were] so many moments in the season when things happened that I just couldn't—they didn't register comfortably. So then we have to explore what the relationship with Laurie has meant for John. I just saw myself really just needing to go sit somewhere and be okay with the newness, because it didn't feel like it was gonna be the John that people remembered, and I really had to process letting that go.
How do you think he made sense and sort of processed what he saw happen to Kevin last season?
I think the experience of it, initially, was overwhelming. It's three years that we had between the end of Season 2 and the beginning of Season 3. I think that was very important for John's emotional reorganization. John can now no longer deny that there were miracles that happened. He tried to shoot this man in the heart, and for him to still be alive is a modern-day miracle. That then, I think, starts to allow John to have a spiritual reconsideration of what spirituality, of what miracles mean. And so I think we start there, and we massage it with that three years with Laurie, and it allows him to sort of transition into the way he sees the world.
See Also
With Season 2 of The Leftovers coming to a close, we chose the 10 moments the series brought tears to our eyes.
So how does he see the world now? What do miracles mean for him after being so violently opposed to the concept for so long in Season 2?
I think he's still on his way to putting that together. I don't think he's come to resolve how it worked. But, I think he now sees Kevin as an integral part of being able to survive this seven years of [tribulation]. Like there's a sense of safety with him that he wouldn't have been able to experience in any other way but by being close to this man and having this man in this sacred town. I think he's starting now to say, "Wait a minute, maybe we are vulnerable on October 14 and the seven-year anniversary [of the Sudden Departure]. Maybe there is something to this."
We find out in the season premiere that Matt, John and Michael have written what they're calling a gospel about Kevin. But, I get the sense that maybe John is not quite as devout. He doesn't have the same certainty that Matt does. Do you think there's a tension there between Matt's belief and John's uncertainty?
Matt is a man of faith, so he, I think, is further along in his resolution. This man [Kevin] can be that spiritual anchor and I think [John is] new to the sense of believing in all this—miracles and stuff like this. Matt should be the leader, and I think, John's newness with this experience is going to lead him to grow. I don't know that it's all there at the beginning of season three. But I think John is starting to consider and to come around to this idea of miracles and Kevin, being spiritually in a place that he's never considered it possible to be.
Obviously, you filmed this show in a very different political climate. But, looking back at it now, what do you make of the way that the sense of anxiety and uncertainty in the world of the show has really unexpectedly started to reflect the world as we know it now.
You know, I think the tagline says it all: "Pray for us." What I know is that we can start with this notion of uncertainty in the world. In Season 2, the Garveys wanted to feel safe, and they moved to Texas because there was this notion that this was a special place where no departures had taken place. So they were willing to uproot themselves and move to where they thought would make them feel safe, right?
This show leaves me, oftentimes, in a scary place because I don't know that there's a place that we can go to feel safe. The safe place that we can move to is towards each other. I think what oftentimes we're looking for is a sense of understanding, a sense of checking in with each other, if we in fact have the same sense about where we are, who we are as people, and what doing good in the world is really about. So, you are confronted with looking at your fellow man and not knowing where they fall on the continuum. It's almost like there's no place to feel safe right now.
The Leftovers, Sundays, 9/8c, HBO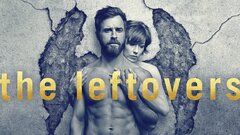 Powered by