Carrie Coon Returns for More 'Leftovers': 'Season 3 Was One of the Most Fun and Challenging Experiences of My Working Life'
The days of tribulation are coming to an end as The Leftovers, HBO's drama about the aftermath of a Rapture-like event, enters its final season. The remaining eight episodes uproot many of the characters from rural Texas to Australia, including Carrie Coon's perpetually bereft Nora Durst. Coon (right, with Justin Theroux) fills us in on what's to come.
The characters on The Leftovers have experienced massive grief—particularly Nora, who lost her husband and children in the disappearances. But there's always been a sense of hope amid the upheaval. Do you think that's true of the final season?
Absolutely. I've always felt the show is hopeful. Out of any kind of destruction, always, always we see life emerge. The series is actually a real testament to the resilience of human beings.
See Also
With Season 2 of The Leftovers coming to a close, we chose the 10 moments the series brought tears to our eyes.
How do you feel about where Nora ends up at the close of this story?
As the actor playing Nora Durst, it's incredibly satisfying because I felt it brought a lot of closure to me, so, hopefully, our audience has a similar experience. I really applaud our writers for taking it in the direction they did. You can't please everybody, but it feels like the right ending for The Leftovers to me.
Do you get to do anything this season that's as crazy as Nora's stand-alone episode from Season 1—in which she attended a Departure-related conference and had a profound spiritual experience?
Yes! And I'm not allowed to talk about it! [Laughs] But I can tell you that Season 3 was one of the most fun and challenging experiences of my working life thus far. We girls don't get asked to do a lot of fun things, especially physically, as an actress. And I'm so grateful to The Leftovers for using my whole body and all of my capacity. I feel very much changed by having been Nora Durst for three years. I find her way of looking at the world has taught me more about how to stand up for myself.
The Leftovers, Season Premiere, Sunday, April 16, 9/8c, HBO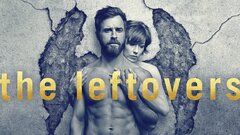 Powered by