'Kimmy Schmidt' Gets Some Knowledge! What to Expect From the Netflix Smash's Third Season
It's about fudging time. After an extended break to accommodate star Ellie Kemper's pregnancy, everyone's favorite Indiana Mole Woman is back in Season 3 of Netflix's (literal) cult comedy Unbreakable Kimmy Schmidt. And having survived living in an underground bunker for 15 years, a reunion with her roller coaster–addicted mother and countless degrading nicknames from roomie Titus Andromedon (Tituss Burgess), Kimmy is taking charge of her life and becoming a college student.
"She's going to try it," executive producer Tina Fey explains. "She's seeing whether there is even time for that in a life that's been on hold." Helping her navigate the halls of higher learning—first at community college and then at Columbia University, where she receives the unlikeliest of scholarships—is Tony winner Daveed Diggs (Hamilton). He recurs throughout the season as a fellow later-in-life student who opens Kimmy's mind by encouraging her to stop pursuing a degree in "Crossing Guard" and start studying philosophy instead. (In addition to Diggs, this season will give us guest spots from Laura Dern, 30 Rock vets Scott Adsit and Judah Friedlander, Ray Liotta and Maya Rudolph in what Fey calls "a fantastic, tour-de-force appearance.")
See Also
This female is strong as hell!
Since this is Kimmy Schmidt we're talking about, expect her to have her mind blown big time by the new environment. "Kimmy finds that, socially and experience-wise, she's a little bit ahead of the other kids at school," says Fey. "Her story explores whether some people have stronger academic intelligence or emotional intelligence. And ultimately, Kimmy's greatest strength may be her emotional intelligence."
She'll need it, especially since there's a fittingly out-there twist in Kimmy's bunker marriage to imprisoned cult leader Rev. Richard Wayne Gary Wayne (Jon Hamm). "This season does feel a little bit heavier in a good way in terms of what the characters are facing," says Emmy nominee Kemper, who loves that Kimmy's rules-driven, optimistic worldview is being shifted yet again. "There's a lot of focus on her growing up. I think there's a level of maturity. She has to accept what she cannot change. But of course these things [from her time in the cult] keep flaring up and impede her ability to move forward."
As Kimmy gets to matriculating and making peace with the past, ex-boss turned friend Jacqueline (Jane Krakowski) must deal with both demented socialite Mimi Kanasis (Amy Sedaris) and the wealthy yet weird brother (Josh Charles) of her fiancé, Russ (David Cross). Anti-gentrification landlady Lillian (Carol Kane) clashes—and then connects—with a businessman (Peter Riegert) out to open a Whole Foods–style market in her beloved East Dogmouth. "Lillian probably has the most romance this year!" Fey teases.
See Also
Titus Andromedon (Tituss Burgess) does his own hilarious homage to Beyoncé in the Season 3 teaser for the Netflix comedy.
Titus, meanwhile, begins the season in hiding, as his stint starring in a cruise-ship production of Mahogany with Dionne Warwick has come to a seemingly tragic end. (The truth about his time on the boat will be awash in mystery until Episode 8.) Then he spies beau Mikey (Mike Carlsen) and another man together. "Hell hath no fury like a Titus scorned," says Burgess of the "epic" fallout from this supposed betrayal. "Basically Titus Lemonades the entire second episode. It's hilarious, it's fierce, but it's also heartbreaking." The homage to Beyoncé's 2016 visual album finds Titus draped in yellow, swinging a bat and belting out an original insta-classic crafted by Fey's husband, composer Jeff Richmond. "Tituss and I are both huge fans of Beyoncé's album, so we tasked Jeff with 'What if Titus had to make his own Lemonade?'" Fey explains. "Titus would be finding his own samples and building from there. So the samples in his version of Beyoncé's song 'Hold Up' are from the Grease soundtrack, 'The Spooky Sounds of the Haunted Mansion' and an audiotape of commercials, like the Mennen deodorant theme. Somehow, Jeff built those into a very catchy song, and we certainly hope that Beyoncé, if she would even hear about this, will know how much we love her."
Don't worry. It's hard to ignore, and even harder not to love, Kimmy. To borrow from its insta-classic theme song, its place in the zeitgeist is strong as hell.
Unbreakable Kimmy Schmidt, Season Premiere, Friday, May 19, Netflix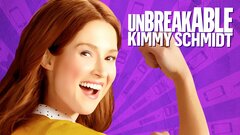 Powered by