Ask Matt: Mourning 'Pitch,' Debating 'American Crime,' Plus 'The Son,' Daytime Soaps, and More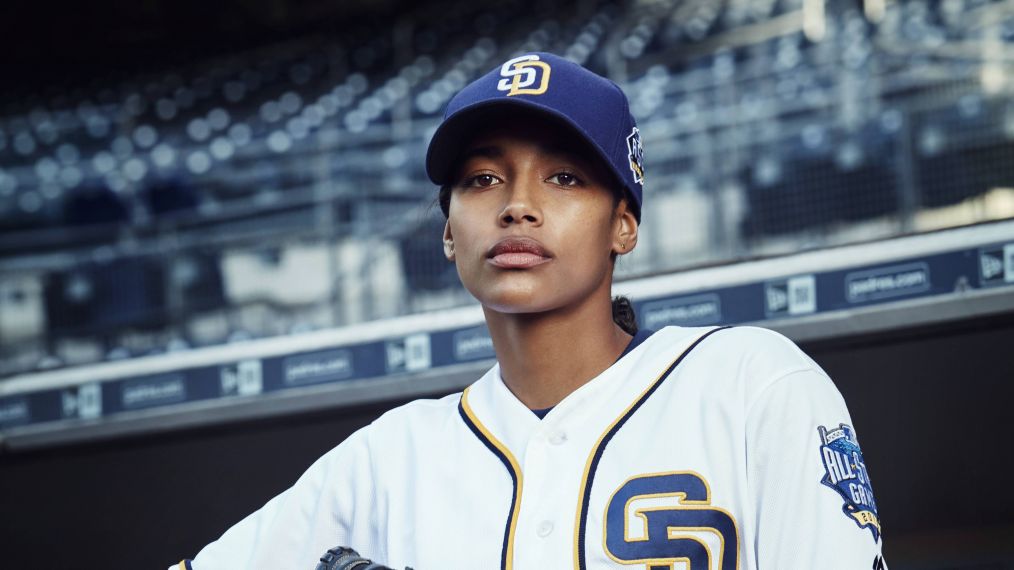 Welcome to the Q&A with TV critic (also known to some TV fans as their "TV therapist") Matt Roush, who'll address whatever you love, loathe, are confused or frustrated or thrilled by in today's vast TV landscape. One caution: This is a spoiler-free zone, so we won't be addressing upcoming storylines here unless it's already common knowledge. Please send your questions and comments to [email protected] (or use the form at the end of the column) and follow me on Twitter. Look for Ask Matt columns on most Tuesdays and Fridays.
Question: I am so sad that Fox canceled Pitch. The show had a great first season with such a good cast (especially Kylie Bunbury and Mark-Paul Gosselaar) and such a strong, positive feminist message. It surprises me that the show never reached a bigger audience as it seemed to have something that would appeal to everyone: action, romance, family drama, social issues, sports. I know the show had low ratings, but is there any chance that it could get picked up for another season or at least get some kind of resolution by another network or a streaming service like Netflix or Hulu? — Cheryl Ann
Matt Roush: Seems really unlikely, sorry to say. Rescue missions like the deal NBC made with DirecTV to extend the life of Friday Night Lights (to name another high-quality sports-themed drama) are fairly rare, and FNL had two seasons under its belt before it was on the ropes. None of the industry reporting on the cancellation indicated there was any movement in this direction, although you'd think if Major League Baseball got behind it, maybe there'd be a taker. Not counting on it, though. This cancellation is not a surprise, except for how long it took Fox to confirm it wasn't coming back, but it's certainly one of the bigger disappointments of the past broadcast season.
Differing Opinions on American Crime
As an illustration of how divergent opinions can be regarding even one of TV's more acclaimed shows, here's a sampling from this week's mailbag following the season (possibly series) finale of ABC's American Crime.
Question: I am truly blown away by the quality of American Crime on ABC. Each season has been different, and all have been outstanding. The ensemble of actors is remarkable, with each taking on such different types of characters every year. I hope ABC will stick with this commendable program, despite the lackluster ratings. I can genuinely say it has moved me to tears, and given me so much to think about. — Laurie
Question: Just wanted to get your opinion of Season 3 of American Crime. The acting, as it has been in the past, was great. However, I felt the stories were too separate, with very little overlap, and that took something away from the series. While the topics covered were absolutely important and shed light on those too often forgotten by society, I felt something was missing. Will there be a Season 4? —Felicia
Question: What in the world happened with American Crime? The first two seasons were great. Good stories and wonderful acting. Was there a different writer for the third season? It jumped all over and nothing was resolved. The ending was very flat and disappointing. — Carlotta
Question: Is American Crime coming back? Chilling last scene on the season finale. – Sylann
Matt Roush: First, to answer the question about the show's future, we'll find out a week from Tuesday if not earlier whether American Crime is still in ABC's playbook. Given the dismal ratings on Sundays this year, the odds seem slim—though I'm frankly surprised we got three seasons of a show so serious and determinedly grim. On the plus side, it's one of the few broadcast network shows to make an impression with Emmy voters (Regina King has won twice, and it tends to get multiple nominations), so ABC could see value in it as a prestige project, ratings be damned. We'll see.
The debate over this season is intriguing, and I understand where both sides are coming from. The connections among the various story threads weren't as neat and pronounced as they tend to be in commercial TV narratives, which would typically have used a character like social worker Kimara (Regina King) as a linking device. (Say, making her the liaison for Jeannette's sister's kids after she went to prison.) I didn't mind the messiness, which reflects reality. And the overall theme was pretty clear, from the farm workers of the first episodes to the abused immigrant nanny and murdered underage sex worker of the second half of the season, that we were getting a bleak glimpse into the lives of people trapped and often unable to survive in a broken system that exploits the poorest, weakest and most reviled among us. Even those who try to buck the system, like the excellent Felicity Huffman as Jeannette, don't always succeed.
I was startled that some stories ended so abruptly—Connor Jessup's in particular—but American Crime is unconventional in many ways, including its downbeat drumbeat. For the show to end as the trials were beginning was an intentional ambiguity. Frustrating if you like your storylines wrapped up, but the image of the victims' ghosts in the back of the courtroom observing these sad outcomes was pretty haunting.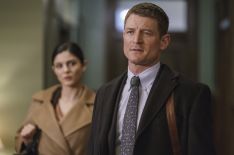 See Also
Here's when your favorite network TV series are having their season finales, along with their renewal status — or their predicted fate.
How Old Is That Son of a Gun?
Question: In regards to AMC's show The Son, did it ever occur to you that one must suspend their belief in mathematics for this series to make sense? According to the show, Pierce Brosnan's character of Eli was born the year Texas became free from Mexico. That would be 1836. He is captured in 1849 by the Comanches at the age of 13. Fast forward to 1915 where he is a sturdy senior citizen. By my calculations, that would make him 89 years old. And there is no way Pierce is appearing to be 89. He rides horses, shoots Mexicans and has dalliances with a former lady friend. REALLY?? What kind of drugs are the writers on? They must have flunked math, American history, and assumed their audience has no common sense. What is your opinion on the subject?
Addendum in later e-mail: Oops, my math was off. Pierce would be 79, not 89. Still makes his activities awesome—but then, he was of hardy stock. And it is TV. Right? — Jackie
Matt Roush: Right. I wasn't thrown by this, because having read Philipp Meyer's terrific novel, I knew Eli would live to be 100, as one of the framing devices in the book is an interview he gives on his centennial, recalling his past. I just figure Eli is, as you say, of hardy stock, having endured a grueling upbringing like few before or after him. He's a tough old SOB, and I'm OK with Brosnan's demeanor, if not always with his accent.
Are Daytime Soaps DOA?
Question: Do you believe the daytime soap opera is dying out? I believe that like the sitcom, which was written off for dead, the soap opera will make a comeback. – Jose
Matt Roush: This is a question better suited for our in-house soap expert, Michael Logan, but from my own perspective, I believe there will always be a place for continuing drama in the daytime, though economics and shifts in viewing habits have reduced the genre's footprint significantly. I still can't quite fathom that All My Children, Guiding Light and so many others are history. Each of the Big Three networks still has at least one iconic series on the schedule, and I'd be concerned if any of them abandon the format entirely. The trend now is to fill most of those hours with talk/news and game shows, and local news in many markets continues to encroach upon the mid- to late afternoon, so I don't see the networks generating new soaps anytime soon. At least not in the way or in the volume that they used to exist.
Pitching a Mid-Term Emmys
Question: Within the last 10 years or so, the number of TV shows has drastically increased. More networks airing original programming and shorter seasons mean there are more shows to choose from for both viewers and critics. While many of the programs are fluff and filler, there's certainly no shortage of quality programming. Winning an Emmy is harder than ever, and many quality shows go without being duly rewarded. Have we reached a point where we need additional mid-year awards to recognize shows that might otherwise slip between the cracks? For instance, Bates Motel aired in late-winter/early spring. By the time the Emmy nominations are announced next year, the show has lost its immediate impact. Your thoughts? – Carl
Matt Roush: The last thing we need is more awards shows of any kind. Arbitrarily splitting a year into two parts to spread the awards wealth would just diminish the value of any given award, I'd think. The issue here is volume, and using Bates Motel as an example and to clarify your perception of the Emmy timetable, it's actually better off having aired in the back half of the traditional season, when eligibility ends on May 31. (Nomination voting begins in June, with nominations announced July 13.) The challenge is for offbeat shows like Bates to cut through the clutter and be taken as seriously as shows on Netflix, Amazon, blue-chip cable outlets like FX and AMC, and the premium channels. It's getting tougher every year.
The Sitcom Second-Wife Syndrome
Question: On the two-part season finale of Kevin Can Wait, is it wrong that after watching Leah Remini with Kevin James, I wish that SHE would have been his wife on the new show? And that they would have just picked up The King of Queens and kept going instead of this new show? No offense to the wonderful Erinn Hayes (Donna), but Kevin and Leah together is just perfection. — Stephen
Matt Roush: This reminds me of how Bob Newhart fans couldn't stop unfavorably comparing poor Mary Frann (of Newhart) to Bob's first TV wife, Suzanne Pleshette (from The Bob Newhart Show). I didn't disagree, but felt it was awfully unfair to the successor. But at least Newhart didn't force the comparison until the very last (and brilliant) scene of the final episode. And I will refrain from comparing Kevin Can Wait to either of the Newhart classics. I'll just say that I don't disagree that merely reprising King of Queens might have been less painful than this lazy and mediocre retread.
See Also
Leah Remini guest stars in the season finale of 'Kevin Can Wait', reuniting with her 'King of Queens' costar.
Lightning Round
Question: Has Good Behavior been renewed? I have not seen anything about the show in a while. I skeptically watched the first two episodes, but by the third I was hooked. I found the characters played by Michelle Dockery and Juan Diego Botto to be captivating. Also, it was like having a peek at a totally opposite life situation. I'll be rewatching the season this summer for sure. – Vicki
Matt Roush: TNT has renewed Good Behavior. I agree the show improved as it kept twisting, especially as we got to know more about Diego (Botto). No air date yet.
Question: I really enjoyed Time After Time. Is ABC going to burn off the remaining unaired episodes? – David
Matt Roush: Not clear. ABC doesn't own the show—it's from Warner Bros.—which might complicate matters. Only three episodes were left unaired, so the network might not see the point. But keep an eye on random Saturdays, that's when networks tend to burn off inventory.
Question: Feud: Bette and Joan was such a great show and I hated to see it end. Are there plans for more limited-run Feud seasons in the future and who will they showcase? – Annette
Matt Roush: Next up: Charles and Diana, to air in 2018. (Can't wait to see the casting on that one!) Ryan Murphy has said he doubts he'd do another Hollywood feud or even another woman-to-woman battle, because how could you top the Bette and Joan rivalry? During last winter's critics' press tour, he even expressed interest in going back as far as the 1600s to find feuds to dramatize. Crack open those history books.
See Also
Some of these celebrities might be vegan, but these Hollywood beefs were nothing but juicy!
That's all for now. We'll pick up the conversation again soon. Thanks as always for reading, and remember that I can't do this without your participation, so please keep sending questions and comments about TV to [email protected] or shoot me a line on Twitter (@TVGMMattRoush), and you can also submit questions via the handy form below.