Roush Review: 'The Son' Is a 'Terrific, Dynastic Saga'
We are all savages: That's the underlying principle guiding terrific dynastic saga, The Son, a darker-than-dark Giant introducing lean, mean "first son of Texas" Eli "Colonel" McCullough (a steely Pierce Brosnan).
See Also
Pierce Brosnan returns to TV (finally!) to star as a ruthless rancher in AMC's cowboy drama 'The Son'.
"This is what men do to things: soil to sand, fertile to barren, fruit to thorns," he tells his adoring granddaughter, Jeannie (Sydney Lucas). Eli preaches a nihilistic philosophy, "Those who don't live by the sword die a hell of a lot quicker," that he comes by honestly.
Kidnapped in 1849 as a teenager (well played by a coltish Jacob Lofland) and raised by Comanche in riveting flashbacks, Eli learns a brutal code of honor that shapes his destiny as a cattle-ranch baron coldly eyeing the future fortune oil could bring. In a parallel 1915 storyline, Eli's ruthless ways clash with the ideals of youngest son Pete (Henry Garrett), who yearns for 20th-century civility, though a brewing race war with Mexicans threatens to push him toward violence. "You want to raise your kids in peace? Figure out a way to change human nature," says Eli.
See Also
Critic Matt Roush weighs in on the 5 best television westerns of all time.
The Son, Series Premiere, Saturday, April 8, 9/8c, AMC and SundanceTV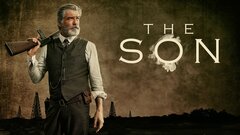 Powered by